Managing with AppleScripts and Entourage
Apple's Mail and Microsoft's Entourage 2004 are powerful e-mail clients, but they can't do everything you might want. Thankfully, both apps support AppleScript, so clever scripters can provide us with downloadable scripts that add features. Even better, you can assign keyboard shortcuts to these scripts for quick execution.
Entourage
There's a thriving community of scripters for Entourage. If the scripts I've listed here aren't enough, check out ScriptBuilders and The Entourage Help Page for more. All Entourage AppleScripts should be installed in / your user folder /Documents/Microsoft User Data/Entourage Script Menu Items.
Categorize Duplicate Contacts
Do you sync Entourage to a PDA? Do you end up with duplicate contacts? This free Allen Watson script finds dupes and assigns them to a new Duplicate category; you can then decide what to do with that category's entries.
File Msgs in Folder
If you've got lots of folders and subfolders, filing them by dragging them to a folder or clicking on the Move button can be a hassle. File Msgs in Folder, another free Allen Watson script, lets you file messages by pressing a keyboard shortcut and then typing the first few letters of the desired folder's name.
Insert Notes
This free script from Barry Wainwright lets you place frequently typed text in Entourage Notes, which you can insert into e-mail messages.
Send Complex HTML with Inline Files
Complex HTML—tables, CSS, or anything other than basic formatting—is rarely necessary in e-mail. But when it is, Rob Buckley's free Send Complex HTML with Inline Files not only lets you send such content but also embeds images and other files referenced by the HTML in the message.
Sync Entourage-Address Book, Sync Entourage-iCal
Even if you're a big Entourage fan, you may want to use it with iSync and other software that takes advantage of OS X's Address Book and iCal data. These handy scripts from Paul Berkowitz ($19 each) synchronize your Entourage Contacts and Calendar with OS X's personal information applications.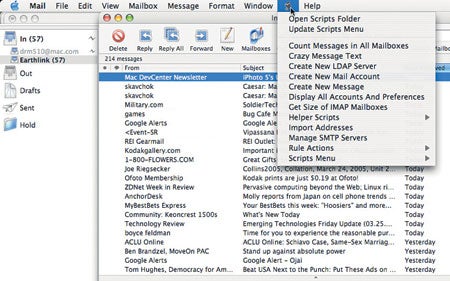 Thanks Apple : Don't ignore the scripts that come built right into Apple Mail—they include tools for importing addresses from other e-mail clients and for configuring remote mailboxes. (Click image to open full screenshot)
Mail
Mail doesn't have the same scripting enthusiasm behind it as Entourage does, but there are still some great scripts out there. Mail scripts belong in / your user folder /Library/Scripts/Mail Scripts.
Built-in scripts
Apple provides a slew of useful scripts with OS X; they're available from Mail's Script menu and documented at Apple's Web site (free; already installed).
Show Flagged Messages, Show Unread Messages, Show All Messages
Ever wish you could view just unread messages in Mail? Or just flagged messages? In Tiger (OS X 10.4), Mail will have smart folders that let you do both. But you can get these features in OS X 10.3 now for free, thanks to MacOSXHints.com: the Show Flagged Messages and Show Unread Messages scripts do just what their names say; Show All Messages restores the standard view.— Dan Frakes
[ Senior Writer Dan Frakes is the reviews editor at Playlistmag.com and the author of Mac OS X Power Tools , second edition (Sybex, 2004). ]
Secrets of Mac superheroes

Amazon Shop buttons are programmatically attached to all reviews, regardless of products' final review scores. Our parent company, IDG, receives advertisement revenue for shopping activity generated by the links. Because the buttons are attached programmatically, they should not be interpreted as editorial endorsements.