Geek Factor Podcast #3: Mac Mods
We here at Macworld have decided to experiment with the Podcast format. So we've taken a page from the magazine and inaugurated the Geek Factor podcast, covering tech topics on an irregular basis.
Cyrus Farivar, who has written for Macworld , the New York Times , and Wired News, among others, is the host of this Podcast. In this third 26-minute installment, the topic of choice is "Case Modding" — modifying a Mac's case to create unique and interesting computer designs. Cyrus interviews Kent Salas, a Mac modder also known as "riscx."
Download Geek Factor Podcast #3 (5.9MB).
(If you click, it may play in your Web browser. Ctrl-click and choose "Download" or "Save" to download the file instead.)
To subscribe to the Geek Factor Podcast RSS feed (for easy downloading via iPodder, NetNewsWire 2, or other podcast-savvy RSS readers), point your newsreader of choice here or, to spell it out,
http://www.macworld.com/weblogs/geekfactor/rss.xml
Want more or different podcasts? Let us know what you want to hear from Macworld in the attached forum thread, linked below.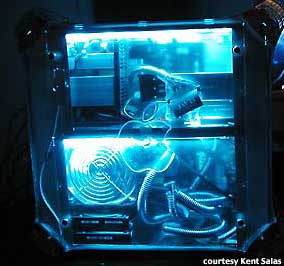 Show Notes (courtesy Kent Salas):
Mac Modding Community: Resource Sites
www.applefritter.com - "The old-school Mac mod/hack site, with a knowledgeable modding community"
macmod.com - "A new and impressive Mac mod site."
xlr8yourmac - "Daily Mac info and occasionally a very smart hardware hack/mod."
Buying mod parts
Kent "riscx" Salas Mods
Macquarium

Amazon Shop buttons are programmatically attached to all reviews, regardless of products' final review scores. Our parent company, IDG, receives advertisement revenue for shopping activity generated by the links. Because the buttons are attached programmatically, they should not be interpreted as editorial endorsements.