Tiger Secrets: Spotlight
Spotlight time savers
Use these keyboard shortcuts to quickly navigate to and around the Spotlight menu.
Command-spacebar: Opens the Spotlight menu.
Command-option-spacebar: Opens the Spotlight window.
Command-return: Opens the Top Hit item.
arrow keys: Move up and down the list of results.
return: Opens the selected search result.
Command-click: Opens the file in a new Finder window.
Easily add Spotlight comments
If you're having trouble finding the files you need, you can add helpful keywords to make searching easier. Just select the file, press Command-I, and enter the appropriate text in the Spotlight Comments field. For example, you could enter
Budget06
for any files pertaining to your 2006 budget.

However, adding Spotlight comments to several dozen files, one at a time, can be extremely tedious. Thankfully, there's Automator. With just a few clicks, you can create an Automator application that adds identical Spotlight comments to a group of files.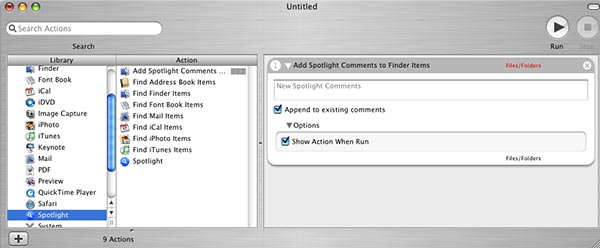 Comments in Bulk Adding Spotlight comments doesn't have to be a tedious affair. This Automator workflow lets you apply the same keywords to many files at once.
In a new Automator window, select Spotlight in the Library column and drag the Add Spotlight Comments To Finder Items action to the empty Workflow pane on the right side. Click on the disclosure triangle next to Options and enable Show Action When Run. To save the workflow, select File: Save As. From the File Format menu, select Application. Give the workflow an appropriate name and save it to the desktop. To put your new Automator workflow to work, simply drag a file or group of files onto its icon. A dialog box will appear with space for your comments. Now you can add a comment to dozens of files at once. —KM
Tiger secrets declassified

Amazon Shop buttons are programmatically attached to all reviews, regardless of products' final review scores. Our parent company, IDG, receives advertisement revenue for shopping activity generated by the links. Because the buttons are attached programmatically, they should not be interpreted as editorial endorsements.