Tiger Secrets: Troubleshooting and Terminal
Assign stubborn Mail signatures
Mail users who upgrade to Tiger may notice that the new version of Mail has trouble applying existing signatures to Mail accounts. To fix the problem, go to Mail: Preferences, click on the Signatures tab, and drag the signatures you want from the All Signatures list to each of your accounts (see "Your Signature Here"). The signatures should now appear in the Signature pop-up menu in each e-mail message you create. —Chris Breen
Switch to Safe Launch
The Quit Unexpectedly dialog box gives you the option of reopening an application that has just crashed. But if the application quits on you a second time, Tiger now gives you a new option: Try Again. When you click on this option, Tiger opens the program in Safe Launch mode, which prevents the application from accessing its preferences file. Corrupted preferences files are a common cause of application crashes.
If the Safe Launch mode is successful, you'll have to make a decision. When you quit the applica-tion, Tiger will ask whether you want to preserve the new settings. In most cases, you'll want to click on Yes. When you do, Tiger renames the original (presumably corrupt) preferences file by adding a .saved extension to its name. The application ignores the old file on future launches. However, this means that you'll have to re-create any changes made to the old preferences file. —TL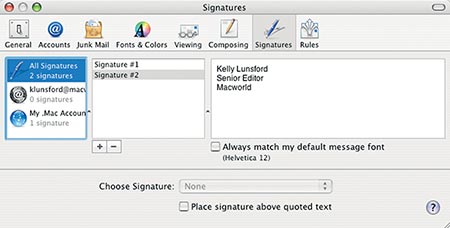 Your Signature Here If Mail seems blind to your signatures, try reassigning them from the Signatures preference pane.
Solve upgrade errors
When you upgrade to Tiger, the installation may fail, yielding an error message. The likeliest culprit here is incompatible third-party RAM. To check for this, remove any third-party RAM (making sure that you still have at least 256MB of RAM in your Mac) and try again. —TL
Polish off printer errors
If you try to add a new printer via Printer Setup Utility, and you get the error "server error service unavailable," go to Printer Setup Utility: Reset Printing System. This will delete all printer queues and jobs, reset all printer settings to their default by deleting configuration files, and perform a permissions check on the /tmp directory. The error should go away. —TL
Battle backup crashes
If you're a .Mac subscriber using Backup to save your data to your iDisk or CDs, you may be irked by crashes. And worse, when Backup crashes twice in a row and you use the Reopen/Retry button to relaunch it, sometimes Backup reverts to its Trial User mode. To fix this, just quit Backup. If an alert message asks whether you want to save new settings, click on No. The next time you launch Backup, your old settings should be restored. —TL
Stop Address Book crashes
If you try to print envelopes from Address Book and the printing fails or Address Book crashes, then open your own address entry and make sure you've entered an address for yourself. The envelope option needs that entry for the return address. —TL
Connect to an old Mac
Try to connect to an older Mac to send or get some files via file sharing, and you'll get a "Connection failed" error because Tiger supports sharing only via a TCP/IP connection. But there's a workaround. You can still connect from the AppleTalk-only Mac to the newer one running Tiger. —TL
Get back preferred networks
When you open the Network preference pane, select AirPort from the Show pop-up menu, and then click on the Join pop-up menu, you should see two options: Automatic and Preferred Networks. The latter option, new in Tiger, lets you add, delete, or edit the names and passwords of networks you use often. If you don't see a Preferred Networks option, something went wrong when you upgraded to Tiger.
To fix it, open the Network preference pane and select Network Port Configurations from the Show pop-up menu. Select the AirPort configuration and click on Delete. A new, trouble-free configuration should be created automatically. —TL
[ Contributing Editor Christopher Breen writes Macworld's Mac 911 column. Senior Editor Rob Griffiths runs the Mac OS X Hints Web site. Contributing Editor Ted Landau is the author of Mac OS X Help Line: Tiger Edition (Peachpit Press, 2005). Kelly Lunsford is Macworld's senior how-to editor. Kirk McElhearn is a coauthor of Mastering Mac OS X , fourth edition (Sybex, 2005). Dori Smith is the author of Dashboard Widgets of Mac OS X Tiger: Visual QuickStart Guide (Peachpit Press, 2005). ]
Tiger secrets declassified

Amazon Shop buttons are programmatically attached to all reviews, regardless of products' final review scores. Our parent company, IDG, receives advertisement revenue for shopping activity generated by the links. Because the buttons are attached programmatically, they should not be interpreted as editorial endorsements.