Opening up the Intel Mac mini
Our first Intel-based Mac minis have arrived, straight from the Apple Store, and what was the first thing the cold, cruel alien intellects at Macworld did with one of these innocents? That's right. We got out our putty knife, popped it open, and spilled its guts out faster than you could say "CSI!"
So before we get started, be sure you've read our clever list of things you need to know about this new machine. You might even want to read my first take on the new Mac mini (hint: I'm excited about its use in a home theater set-up), or hear me yammer on about it in our latest podcast.
All set? Okay, without further ado, here's an extremely quick tour around the patient's insides.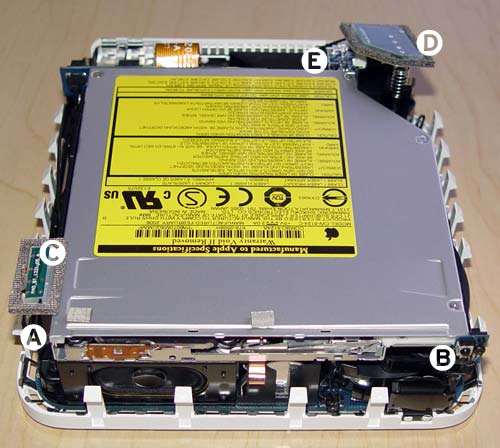 From this vantage point, the Mac mini hasn't changed much from its previous version. However, there's one gigantic change that may not be apparent from this angle: the easily-accessible RAM slot on the left side (A) is gone. Or to be more accurate, they've been turned on their side and hidden from view. (More on this in a moment.)
On the far side of the case you can see the new infrared receiver (B) right at the end of the optical-drive slot.
The Mac mini's Bluetooth (C) and AirPort (D) antennae are still in place, although these versions seem a bit more robust than the we-just-taped-it-together feel of the previous model. There's one other change that's a bit hard to see from this photo, but it's just beneath and behind the AirPort antenna (E): the Mac mini's Bluetooth card, relocated to the top of the drive cage.
Next, we remove the drive cage (four screws, just like the previous model) and gingerly lift up, removing the interconnect card from its slot and disconnecting another cable carefully. Folding the drive cage back, we reveal the inside…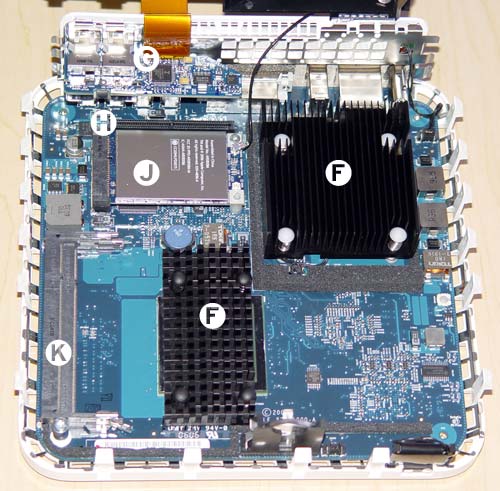 Things are a bit different under here. We've got two large heat sinks (F) (one for processor, one presumably for video circuitry). There's a little perch (G) at the back for the new "penthouse" on port row, belonging to the audio-in and -out ports. Just below the interconnect slot (H) is the built-in AirPort Extreme card (J) (you can see the antenna snake off to the right). At the front left you can make out the two RAM slots (K), one on top of the other. SODIMMs slide right into here, laying on their side. It's a tight squeeze, but SODIMMS like to snuggle, so it's okay.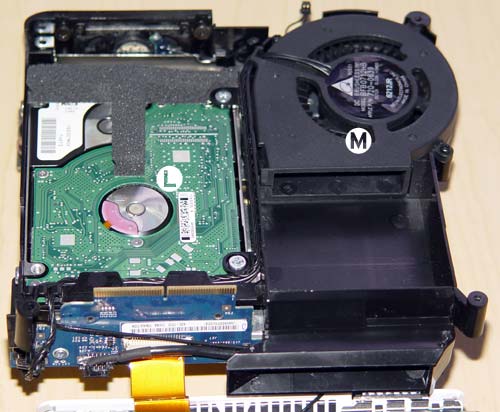 On the flip side, here's the bottom of the drive cage. The 2.5-inch hard drive (L) is still here, although now it's of the Serial ATA, rather than parallel ATA, variety. To the right resides our old friend the fan (M).
And that's your lightning-quick, shotgun tour of the new Mac mini. She's in the hands of the Macworld Lab now, being tested as we speak. More on that — including a full review — later on. Got more questions or comments? Feel free to leave them in the comment thread attached to this story.