Page 3 of 4
For the dad who has everything
All the previous gift suggestions are all and well and good if your dad has a missing part of his iPod accessory puzzle. But what if he already has a fairly complete assortment of add-ons—the noise-canceling headphones, the sweet home stereo set-up, and all the music he could ever want? What can you get this species of iPod lover, iPodus Maximus? Here are a few ideas.
Bargain hunting If you're low on cash, you can try a free gift that puts the "fun" into "functional." When your dad isn't looking, swipe his color-screen iPod and take it to your Mac. Once you're connected to the Internet, load it up with maps—specifically, iPod Directions or iPod Subway Maps . The free iPod Directions is a slick and easy way to integrate Yahoo! Maps with your iPod. Simply type in the starting and ending points (just like you would with any online map service) and this website will generate directions and the map that you can download to your dad's iPod. And if your dad takes public transit to work, the free iPod Subway Maps offers iPod-compatible versions of subway maps for cities around the world, including San Francisco, Chicago, Boston, New York, Salt Lake City, and Los Angeles.
If your dad's a frequent traveler, he'd surely appreciate tips on where he can connect to the Internet and perhaps even get a decent cup of joe when he's on the road. Snag your dad's iPod, and hook him up with the free WiPod , a great Web site that has custom built lists for all 50 states and many countries around the world, including Russia, Peru, and the Netherlands Antilles. All you have to do is just figure out where your dad's off to next and out fit his iPod with data. If a future destination happens to be San Francisco or New York, you could also load him up with MacworldEats , a list of our favorite local eateries or the PiPod , a list of all the best pizzerias in the Big Apple's five boroughs.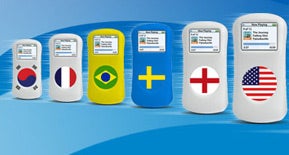 AVA's Lava World Cup cases for the iPod nano sport the flags of the participants in the soccer tournament.
Even if dad isn't going to get a chance to travel to Germany for this month's World Cup, you can still get something that the soccer fan in him will appreciate—the Lava World Cup case from AVA. This $15 rubber iPod nano case comes with a cover for the screen and replaces the clickwheel with the flag of dad's favorite World Cup team—the United States, Germany, Italy, Spain, Japan, Sweden, and Brazil, among others. After you present it to him, you can show him how to download a free World Cup encyclopedia from Coolgorilla. This software includes files on World Cup history and a team guide for every single national team.
Eat, drink, and be merry Get dad a gift that everyone can enjoy with a one-two punch of two great American classics: the $10 Pocket Bar & Grill for iPod from Enrique Quintero Design and the $16 audiobook version of The Daily Show with Jon Stewart Presents: America The Book from the iTunes Music Store. Dad can consult any one of 750 mixed drink recipes and 225 food recipes with the turn of an iPod wheel. That way, by the Fourth of July, he'll have practiced enough to wow the whole family. While salivating over grilling tips is only so much fun, The Daily Show with Jon Stewart Presents: America The Book provides nearly four hours of laugh-out-loud storytelling of America's political history from basic cable's premier court jester. Just make sure your Dad doesn't combine these two activities—gut-wrenching laughter combined with fire and/or alcohol don't go so well together.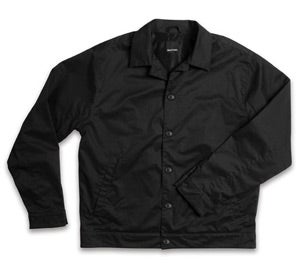 It may not look like it, but this BlackCoat Work shirt from Koyono lets you stash and control your iPod.
Fashion forward OK, so dad has the upper-tier iPod case, the upgraded headphones, and a tricked-out iPod setup for his car. But he probably doesn't have a shirt which he can plug his iPod into. He will if you get him the $249 BlackCoat Work from Koyono. (A $275 "premiere" edition is also available.) The shirt has iPod controls on the inside of the front buttons for easy access, allowing dad to walk down the street with his iPod concealed while maintaining control over his music.—CYRUS FARIVAR