Page 2 of 4
Flying the musical skies
As much fun as it may be to sit for hours, glaring at the back of the seat that's crushed your legs since 10 minutes after take-off, there are more pleasant ways to while away the hours on a long plane ride. One of them is listening to (and watching, in the case of the fifth-generation model) your iPod. Try these iPod add-ons the next time you take to the air.
Battery check The iPod's battery provides enough play time for a cross-country flight, but for those really long flights you'll want a little extra help. The least expensive way we know of is Griffin Technology's $20 TuneJuice Backup Battery for iPod . Compatible with any dock connector iPod, the TuneJuice is a small external power source that houses a single 9-volt battery. A completely drained iPod will play music for up to four hours from this battery. If your iPod is charged up, the TuneJuice should provide around eight additional hours of music play. Because video is more power-intensive, expect to get less playtime from the TuneJuice when used with a 5G iPod playing your favorite TV programs.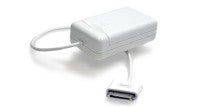 TuneJuice from Griffin Technology can bolster your iPod battery so that the music never stops during your cross-country flight.
Griffin's TuneJuice is a convenient option for extending your iPod's battery charge, but if you're flying halfway around the world, even it won't help you get through the first season of Lost on a single charge. For this kind of robust charge you need a bigger battery, specifically an external Lithium-Ion battery from Lithium House or Battery Geek. These somewhat bulky external batteries are available in different capacities (from 50 to 200 hours of additional music play time) and are priced between $70 and $250.
If you're among the fortunate few who travel on your company's nickel and get to sit in the high-tone areas of the aircraft—specifically, those seats equipped with power outlets—save some wear and tear on your iPod's battery and acquire Monster Cable's $30 iAirPlay Charger for iPod. As its name implies, the iAirPlay offers a 15v airplane power jack on one end and an iPod dock connector on the other. Plug it into the airplane's power outlet and your iPod, and the music and video never stops. Better yet, the iAirPlay also includes an adapter that works with an automobile's power outlet.
The belt loop on DasBlau's Versa flipcase doubles as a sturdy stand, letting you place a video-capable iPod on a tray table for easy viewing during flights.
Travel in comfort If you're on a flight that lasts longer than an hour, your arms will quickly grow tired of holding your 5G at a video-friendly viewing angle. Das Blau' $60 Versa flipcase for 5G iPods makes viewing video less stressful by providing a belt loop that folds out to become a sturdy stand, suitable for placing on a tray table. This attractive leather case allows you to place your iPod at angles of approximately 40, 50, 65, or 75 degrees.
To this point we've recommended a power adapter, a case, and an external battery. Now you need somewhere to put all this gear—and to pull your traveling ensemble together. Try Waterfield's $35 Large iPod Gear Pouch. Yes, it looks just like a clutch purse. Get over it. It's a great (and attractive) way to conveniently carry your iPod and its accessories.
Drown out a jet engine Despite the insulation jammed into their walls, jets are noisy, inside and out. To enjoy more music and less noise, check out Sennheiser's $220 PXC300 noise-canceling headphones . These lightweight, closed mini headphones intelligently sample outside noise and cancel 80 percent of it by creating an inverse audio signal.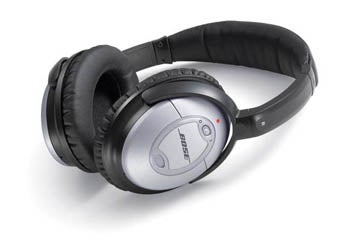 The QuietComfort2 Acoustic Noise Canceling Headphones from Bose offer comfort—and the elimination of outside noise—to the weary traveler.
We like the Sennheiser PXC300s for getting rid of monotonous noise, but they're not the most comfortable noise-canceling headphones on the planet. That honor goes to the Bose's aptly named $300 QuietComfort2 Acoustic Noise Canceling Headphones. Yes, these are those somewhat bulky 'phones you see folks in business- and first class pulling from their stylish attachés. Quite honestly, we prefer the audio quality of Sennheiser's noise canceling headphones, but you can't touch the Bose for coziness.
What else? So you've got your iPod, headphones, and an external battery to keep it alive. You forgot one thing—something to play on it. Before leaving on a jet plane, consider packing it with Leaving On a Jet Plane or any number of other tunes or videos available from the iTunes Music Store. A $100 gift certificate buys your frequent flyer the first seasons of Lost, Weeds, and Desperate Housewives with $10 leftover for The Best of Peter, Paul and Mary: Ten Years Together.
The only way to fly Face it, traveling by commercial airliner is a drag—long lines to check in, security hassles, bad food that you now have to pay for, and no leg room. Screw it. For the ultimate iPod flying accessory, do as Steve Jobs does and get yourself your own plane. Jobs slums it with the $40 million Gulfstream V. You can do better with the Gulfstream G550, a jaunty little model featuring a large cabin, a range of 6,750 nautical miles, a maximum cruising altitude of 51,000 feet, and speeds up to Mach .885. You can outfit one of these babies with any audio system you like. And if the crew complains about the volume, hand them a parachute and ask them to follow the lighted path to the nearest exit. The price? If you have to ask, you can't afford it.—CHRISTOPHER BREEN