Summer Gear Guide: Travel tools
Stuff for when you get there
The flight is over and you've caught a cab to your hotel (or got a ride from your uncle and find yourself in a relative's spare bedroom) and long for the comforts of home. Luckily, that same iPod that that helped you through a few legs and a longer-than-expected layover in Salt Lake City can also be your best friend when you've actually arrived at your destination. Here are some add-ons that you might want to keep in your travel bag for that next trek.
Go mobile Headphones are a necessity on an airplane, but when you reach destination, you might want something you can hear as you wander around the hotel room. A portable speaker set such as Logitech's $150 mm50 Portable Speakers for iPod . Although slightly bigger than the competition, the build and sound quality of these Logitech speakers are great—and a nice bargain as well. The speaker system even comes with a protective case and a wireless remote, so it's made for travel.
Besides featuring great sound, Logitech's portable mm50 speakers also com with a protective case and a wireless remote.
Still, sometimes you need to keep the noise down (like when your hosts have gone to bed). In that case, a good set of headphones is still needed. For something lightweight with excellent detail and midrange, as well as impressive bass, few headphones can compete with Sennheiser's $50 PX 100 . These headphones are sturdy, extremely comfortable, and fold up for storage in an included hard case for travel. (And for $10, you can buy a white, silver, and grey version to match the classic white iPod.)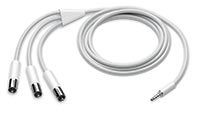 Once you've gotten to where you're going, why keeping watching videos on the iPod's screen? The iPod AV cable lets you hook your portable player up to a television.
Get connected Viewing photos or watching videos on the fifth-generation iPod's crisp, bright screen is a joy when you're out and about. But if you've got access to a TV at your destination, why not take advantage of it? With Apple's $19 iPod AV Cable , you can connect to the standard composite inputs found on TVs and watch those TV shows and movies you've dropped onto your iPod without the need to squint. (You can also use the AV cable to connect the iPod to a stereo to enjoy your music aloud.)
Bundle up Sure, it's summertime now, but future travels might take you to some place chilly. And iPods are hard to control with frozen fingers. That's when you need PlayPoint's $35 tavo Gloves. Unlike normal gloves, these add a special "touch" patch to the tip of the index finger and thumb that mimics the electrical properties of human fingertips. The tavo gloves are thin—so best for keeping your hands warm when running or biking in the cold, and probably not for skiing—but they do provide some warmth, and include silicone "dimples" on the palms and fingers that offer an improved grip.—JONATHAN SEFF

Amazon Shop buttons are programmatically attached to all reviews, regardless of products' final review scores. Our parent company, IDG, receives advertisement revenue for shopping activity generated by the links. Because the buttons are attached programmatically, they should not be interpreted as editorial endorsements.