capsule review
VoIP applications
At a Glance
Skype 1.4

Macworld Rating

SIPPhone Gizmo Project 1.3.2

Macworld Rating

Apple iChat AV 3.1.1

Macworld Rating

SightSpeed 4.5

Macworld Rating
Page 2 of 7
iChat AV 3.1
Most Mac OS X users already have a great VoIP tool installed. Apple's iChat AV comes with every Mac and, as of the current version (3.1.4), offers good voice-chatting and videoconferencing features. This program began life as a simple text-messaging tool for use with the AOL Instant Messenger (AIM) network, but it has evolved into a full-blown desktop teleconferencing tool. When used alongside Apple's excellent iSight video camera (now built into new iMacs, MacBooks, and MacBook Pros), iChat provides the richest videoconferencing experience available on an OS X machine.
iChat also supports Jabber, an open-source IM protocol, so you can use iChat with Google Talk (a Windows-only IM program). And Bonjour, Apple's zero-configuration networking technology, enables iChat to seamlessly discover potential partners connected to your LAN. iChat also works with Apple's iChat Server, so you can maintain your own private network of iChat users. This is ideal in an office setting where you don't want private communication traversing the public Internet.
iChat's user interface resembles that of an IM application. Like Skype and other IM apps, iChat has a buddy list that tells you the current status of each of your buddies, so you know if it's a good time to call or text-message them. iChat also offers something unique among these VoIP tools: icons accompanying each buddy in the list tell you whether he or she has the right hardware—in this case, a camera and a microphone—to accept video or voice calls.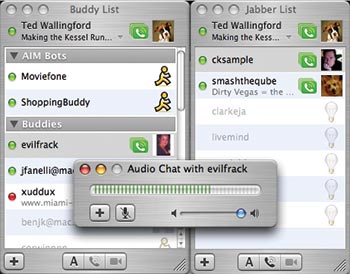 Other Messengers iChat's VoIP features let you have audio and video chats with other iChat participants who use the AIM and Google Talk IM services.
In addition to offering one-on-one calling, iChat supports multiparty cross-platform conferencing for voice and video. Voice conferences can include up to ten participants. While iChat is limited to four video participants at a time, it's hard to beat iChat's cool 3-D video display, which makes it appear that the people in the conference are actually facing one another. Apple's adoption of the H.264 video codec means that you'll see very clear, high-quality video, too, but H.264 is supported only in OS X 10.4 or later. The latest release of iChat, which requires OS X 10.4.6, even allows voice and video calls with AIM users on Windows.
Despite iChat's achievements, Apple's desktop VoIP program falls short in several areas. Unlike Skype and Gizmo, iChat doesn't allow you to place computer-to-phone calls. Although iChat is compatible with the Google Talk IM application for Windows, voice calls to Google Talk users won't work. iChat doesn't support USB cameras, but shareware utilities such as Ecamm's iChatUSBCam can help you get around this limitation. Finally, iChat offers secure, encrypted communications only between users of .Mac, Apple's $100-per-year Web service.
iChat is remarkably easy to use, but its feature set is beginning to lag behind those of other VoIP communication tools. Of course, if you don't need computer-to-phone calling and you chat only with Mac users, especially .Mac subscribers, iChat is probably your best choice.
Macworld's buying advice
iChat AV 3.1.4 has made VoIP chatting simple but still doesn't support computer-to-phone calling. People who need a VoIP conferencing tool that supports this should consider Skype or Gizmo Project instead.
At a Glance
Skype 1.4

Macworld Rating

SIPPhone Gizmo Project 1.3.2

Macworld Rating

Apple iChat AV 3.1.1

Macworld Rating

SightSpeed 4.5

Macworld Rating
Shop Tech Products at Amazon