capsule review
VoIP applications
At a Glance
Skype 1.4

Macworld Rating

SIPPhone Gizmo Project 1.3.2

Macworld Rating

Apple iChat AV 3.1.1

Macworld Rating

SightSpeed 4.5

Macworld Rating
Page 4 of 7
SightSpeed 4.5
SightSpeed 4.5 is a VoIP communication application that lets users chat via text, voice, and video with other SightSpeed users, whether they're running the Mac or Windows version of the software. You can also send and receive traditional voice mails and video-mail messages with other SightSpeed users. Like its competitors, it requires a microphone for voice chat and a desktop Web camera—such as the iSight—for video chat.
While the basic version of SightSpeed is free, you'll need the premium version if you plan on using its advanced features, which include multiparty videoconferencing. The free plan includes basic calling features such as unlimited computer-to-computer video and voice chat, and video-mail messages that are up to 30 seconds long. You can store these messages on SightSpeed's server for up to 30 days. The Pro plan, which costs $4.95 per month, adds unlimited video-mail storage and allows you to send video messages that are up to one minute long. You also get multiparty videoconferencing with the premium service. Neither plan supports computer-to-phone calling.
You must set up an account to use SightSpeed. To do so, visit SightSpeed's Web site, where you can enroll in either the free or the premium service plan. SightSpeed offers a free Webcam to Windows users who pay in advance for a full year of pre-mium service—an up-front fee of $50. Unfortunately, you can't use the Webcam with a Mac, so SightSpeed recommends a Mac-compatible camera such as the iSight. Interestingly, if your chat partner's camera supports pan-tilt-zoom controls, you can actually control the angle and zoom of that camera with your Mac SightSpeed software. SightSpeed touts its video-mail recording capabilities as an advantage for video bloggers, but serious vloggers may chafe at the one-minute recording limit.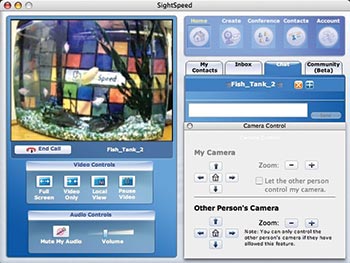 The SightSpeed Challenge Though SightSpeed's interface is very different from iChat's, its video quality and parental controls make it a great challenger to Apple's aging chat program.
The quality of SightSpeed's sound and video is similar to that of other VoIP chat tools. Though you can't resize its main window, you can detach its video display from the main window and resize it to your liking. This program's un-Mac-like interface makes it seem oddly out of step with most contemporary Mac software. (However, some users may appreciate the fact that SightSpeed's interface is identical on Mac and Windows.) In spite of these quibbles, SightSpeed is easy to use, so first-time video-chat users might want to check it out.
SightSpeed's community feature (in beta at press time) lets users easily find other people to chat with. When you join the SightSpeed community, you can create a profile that other community members can view. To keep your kids away from potentially inappropriate audio- and video-chat contacts within the community, SightSpeed allows you to create a parental-control password. There seems to be no way to view a particular user's profile or to search profiles from within the SightSpeed software, which can be frustrating if you're looking for somebody who shares your interest in a topic or who comes from a certain part of the world.
Macworld's buying advice
SightSpeed offers a unique combination of cross-platform voice and video features. If you're looking for a video-chat tool that has stronger community features than iChat, give SightSpeed a try.
At a Glance
Skype 1.4

Macworld Rating

SIPPhone Gizmo Project 1.3.2

Macworld Rating

Apple iChat AV 3.1.1

Macworld Rating

SightSpeed 4.5

Macworld Rating
Shop Tech Products at Amazon