Playlist's Plays of the Year: 2006
Top listening devices—headphones and speakers
Best Earbuds: Remix M-Class ($50 ; V-Moda )

We're generally not big fans of earbuds here at Playlist . Like Apple's included headphones, most earbuds—thanks to their small size and loose fit in your outer ear—provide poor bass and mediocre overall sound. In fact, the genre has been so bad, relative to other headphone styles, that we've been recommending variations on the same Sennheiser earbuds for several years. (Not to mention that, as earbuds go, Apple's stock models that ship with each iPod aren't that bad.) But this year we have a new favorite: V-Moda's Remix M-Class . At $50, they're more expensive than most earbuds, but well worth it considering their excellent sound quality (good bass response, excellent detail, and a warm overall sound); quality build (each earbud, as well as the headphone plug enclosure and Y-connector on the cables, is made of polished metal alloy); and attractive design (available in metallic blue, metallic pink, or silver). And they're comfortable to boot.—DAN FRAKES

Best Canalbuds: CX300 ($80 ; Sennheiser )
Halfway between earbuds and in-ear-canal ("canalphone") headphones sit what we call canalbuds . Instead of sealing firmly inside your ear canals using foam or flanged-rubber eartips, like true canalphones, canalbuds have small rubber eartips that sit at the ends of your ear canals—they don't fully seal out external noise, but they're easier to put in and take out and they're more comfortable for many listeners than full-fledged in-ear-canal models. This category has long been dominated by Sony's EX series, but Sennheiser's new CX300 —the company's first attempt at canalbuds, no less—handily beats Sony's offerings in the sound department while also being lightweight (just four grams) and comfortable. And with a street price of around $55, the CX300 is priced competitively.—DF
Most Innovative iPod Headphones: ety8 ($199 for headphones only, $299 including iPod transmitter; Etymotic )
Canalphones are one of the most popular genres of iPod accessories. But compact Bluetooth headphones are among the most requested genres. I never really expected the two to cross paths, but Etymotic—a pioneer in in-ear-canal headphones—accomplished just that with the release of the ety8 . The company has taken the technology used in the acclaimed $299 ER-4P and mated it with Bluetooth technology to produce a truly wireless set of canalphones; the only cable is the one connecting the left and right earpieces behind your neck. Instead of bulky earpieces, the ety8 uses small (1.4-by-0.8-by-0.4-inch) enclosures—the right housing the system's Bluetooth components, the left hosting a 7- to 10-hour rechargeable battery. The earpieces are light enough to be supported by the canalphones themselves; in fact, the cable and both earpieces, taken together, weigh a total of an ounce. A small Bluetooth transmitter connects to your iPod's dock-connector port, and you can use buttons—Play/Pause, Forward, Back, and Volume Up and Down—on the right-hand earpiece to control playback. The system supports A2DP, AVRCP, and Bluetooth 2.0, and the headphones can also be paired with Bluetooth-enabled computers and mobile phones (for listening only). Best of all, you get near-ER-4P sound quality.—DF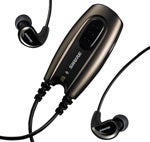 Best High-End iPod Headphones E500PTH ($499 ; Shure )
As more and more audiophiles embrace portable digital audio, the market for high-end in-ear-canal headphones has blossomed. We're old pros when it comes to canalphones, but even we got excited about Shure's new flagship model, the E500PTH . Using three separate drivers in each earpiece, the E500PTH offers stunning sound quality—provided you've got lossless music and the ears to tell the difference, of course. Even better, these are the lightest and most comfortable "universal fit" canalphones we've tested. Finally, the E500PTH package includes an impressive list of accessories: short and long cables, a level attenuator (for use with too-loud audio sources, such as airplane-seat jacks), an adapter for 1/4-inch headphone jacks, a hardshell carrying case, and—one of our favorite audio accessories of the year—Shure's new Push-To-Hear Control module. The latter accessory sits between your audio source and your canalphones; when you want to hear the outside world, you push a button and a microphone picks up that external audio and feeds it into your headphones. You'll never again have to deal with removing and reinserting your canalphones every time you need to hear the flight attendant. The E500PTH package is definitely pricey, but if you've got golden ears, it's worth it.—DF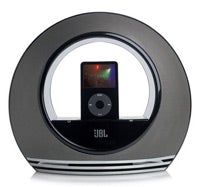 Best Desktop/Compact Speaker System: Radial ($349 ; JBL ) and i-deck ($150; Monitor Audio )
After much deliberation, we came to the conclusion that we couldn't pick a single desktop/compact speaker system this year. When it came to one-piece desktop speaker systems, JBL's Radial proved to be in a class of its own, thanks to beautiful design and remarkably good sound quality—easily the best we've heard from a one-piece system. The Radial also includes a radio-frequency (RF) remote control with the fairly unique ability to navigate your iPod's menus from afar.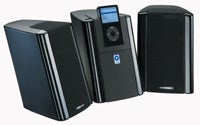 Monitor Audio's i-deck impressed us with its excellent detail, midrange, and—thanks to separate speakers that can be placed up to 6 feet apart—stereo imaging and separation. In fact, we found it to be one of the most balanced and natural-sounding iPod speaker systems on the market, and noted that "few systems… even approach the i-deck in terms of sound quality for the money." That was in early 2006 when the i-deck sold for $249. Just a few months later, Monitor announced several new iPod speaker systems and promptly dropped the price of the i-deck down to $150. At that price, there's no excuse not to go out and buy one—or two or three.—DF
Best Portable iPod Speakers: inMotion iM9 ($200 ; Altec Lansing )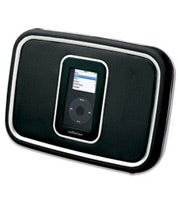 Portable speakers usually involve compromises: to get battery power and small size, you have to put up with lower volume levels and less bass. Altec Lansing's inMotion iM9 is the first truly portable system that doesn't require you to give up big sound for portability. This 11-by-3-by-7.8-inch, 4-pound system isn't much bigger than a thick college textbook, but its two 1-inch tweeters and two 2.5-inch midrange speakers pump out enough sound—including resonant bass and surprisingly loud output—to keep the whole dorm up at night; the iM9 sounds just as good as (or better than) many mini-systems. The included AC adapter charges your iPod and a composite-video output lets you hook the system up to your TV for watching iPod-hosted video and photos. And the iM9 is also a capable road warrior: four C-cell batteries provide power, and a rugged, rubber exterior keeps your iM9 safe from bumps and bangs as you travel. Altec Lansing even includes a "sling" backpack for toting the iM9 and your favorite iPod accessories from place to place. Crank it up and hit the road.—MH
Best Home iPod Speaker System: i300 ($400; Jamo )
Last year, Klipsch's $400, monstrous iFi took the crown of Best Home iPod Speaker System. This year, Jamo—a subsidiary of Klipsch Audio Group—released the similarly-priced i300 , effectively taking the iFi, scaling it down in size, changing its appearance to white- or black-piano-gloss, adding a Universal-compatible dock, improving the dock controls, and offering better detail and upper midrange (although sacrificing a bit of volume and bass extension). As we said in our original review, the result is "a sub-sat system that provides home-stereo-quality sound, while being small enough to hide in most rooms… it's a compelling combination of sound quality, iPod compatibility, and looks.… Combine an iPod full of music with the i300 and you've got a system capable of outperforming many of the stereos you'll find at the big electronic chain stores, while taking up a fraction of the space in your listening room."—DF

Amazon Shop buttons are programmatically attached to all reviews, regardless of products' final review scores. Our parent company, IDG, receives advertisement revenue for shopping activity generated by the links. Because the buttons are attached programmatically, they should not be interpreted as editorial endorsements.