Page 3 of 5
Top on-the-go accessories: cases and car gear
Best Case for 5G iPod: VideoShield Kit ($35; Agent 18 )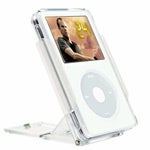 This was a tough category; we could just as easily have tapped Contour Design's Showcase video for the award. But in the end, Agent 18's VideoShield Kit won us over by providing the most versatile iPod case we've ever seen. The heart of the kit—the case itself—is classic Agent 18: a clear, two-piece polycarbonate shell that protects your iPod without adding a lot of bulk. The bottom edge of your iPod is fully accessible—the case is flush with the bottom edge so you can still use bottom-mounted iPod accessories such as microphones and FM transmitters. But as great as the case is, it's the other three pieces in the kit that set the VideoShield apart. A removable, stainless-steel belt clip offers a sturdy way to carry the case. Or you can swap the belt clip out for a sturdy, flip-out stand that's perfect for watching videos and viewing photos. Finally, Agent 18 has provided the answer to the eternal iPod-case dilemma: how to use your iPod in dock-cradle accessories without removing it from the case. The company includes a Universal Dock adapter specifically made for Video Shield-encased iPods; instead of using the dock adapter included with your 5G iPod, you use the one included with the VideoShield Kit. As we asked when we originally reviewed the VideoShield Kit, why hasn't anyone else thought of this yet?—DF
Best Skin iPod Case: eVo3 for iPod (with video) ($35; iSkin ) and Smooth E for iPod nano ($20; AVA )
A good iPod case is all about balance. On the one hand, you want to keep your precious player safe from scratches, dents, and scuffs. On the other hand, it's a portable music player, not a museum piece—you want to be able to use it for its intended purpose. iSkin's eVo3 manages to achieve this balance with Zen-like harmony. It's really a two-piece case: besides the traditional silicone skin, which wraps and cushions the iPod, there's a hard plastic shield—called the VISOR—made from high-quality, scratch-resistant plastic, that protects the entire front face of the iPod. The Click Wheel remains accessible, and there's even a removable cover for your iPod's dock connector, meaning you can put the iPod in a dock cradle without removing it from its cocoon. The eVo3 might be a little pricier than its competition, but when it comes to keeping your iPod safe, can you really pay too much?

As for the iPod nano, you want a case for your shiny, tiny player, but you don't want to do bulk up its slim profile. AVA's Smooth E has got you—and your nano—covered. This unique skin case is actually rigid: it's a two-piece, hardshell case made of ABS plastic coated with a liquid polymer finish that feels unbelievably smooth. Inside, your nano reposes in felt-lined splendor, protected from the bumps and jostles of everyday life. The bottom of the case is open to let you plug in your headphones and sync the iPod, and a hard piece of clear plastic is integrated in the case's cover to protect your nano's vulnerable display. But the best innovation of the Smooth E is the case's built-in Hold switch; it lines up with the nano's own Hold switch and makes flicking it on and off a breeze. In fact, slipping your nano into the Smooth E might make it hard to tell which is getting more attention: the iPod or its case.—DM
Best iPod Apparel: Power Jacket and Power Hoodie ($150 each; JanSport )
We've seen a good number of iPod-enabled jackets and clothing, but JanSport's Power Jacket and Power Hoodie are the best yet. Made of a water-resistant, soft outer shell with fleece lining, both form-fitting-but-stretchy garments are perfect for active wear; the main difference is that the Power Hoodie adds a lined hood. Your iPod fits in an internal pocket near the jacket's waist, and your headphones connect to a minijack near the jacket's neck; a soft-button pad on the chest lets you control playback and volume. The controls are easy to use—you don't have to reach inside the jacket or fiddle with touch-sensitive buttons—and the jacket is comfortable and attractive, which is more than we can say for many iPod-capable garments.—DF
Best FM Transmitters: TransPod and TransDock micro ($100 and $70 ; DLO )
It's now fairly common knowledge that if you want the best iPod audio your car can provide, you connect your iPod directly to your car's stereo head unit. But if you can't afford it (or spend a lot of time in cars you don't own—and yes, I mean you Ms. Traveling Salesperson) you need an unwired solution: an FM transmitter. We've run nearly all of them through their paces, and two transmitters from DLO come out on top—the $100 TransPod and the $70 TransDock micro . Forget batteries, each charges the iPod through the car's 12v power receptacle (read "cigarette lighter"), each boasts a bright display, each offers three presets for storing your favorite frequencies, and each of them can broadcast to frequencies from 88.1 to 107.9. But then so do lots of other FM transmitters. The difference here is that DLO's transmitters tend to take on stations that others can't—overpowering weaker "standard" radio stations that can produce interference in lesser transmitters. Why choose one over the other? The TransDock micro is $30 cheaper and, thanks to its included USB sync cable, it accommodates all dock-connector iPod models. The TransPod works with other iPods as well, but its cradle more closely hugs a full-sized iPod—and provides a place for your iPod to sit.—CB
Best Car Accessories: flexibleDock ($50; Ten Technology ) and TuneDeck for iPod nano ($50 ; Belkin )
If you don't have an integrated, iPod-compatible audio system in your car, you have to figure out some other way to get your music into your car stereo. But you also have to find a way to keep your iPod from bouncing around your car's interior. We were big fans of Ten Technology's flexDock for the iPod mini; for 2006, the company released a new version, the flexibleDock , that works with all dockable iPods. The base plugs into your car's cigarette lighter jack, which provides both a stable mount point and power for charging your iPod; a sturdy, 6-inch, articulating arm hosts a thick dock-connector cradle which, via one of several included adapters, holds your iPod securely at a visible height. (The flexibleDock even stays in place over rough roads.) A stereo minijack on the base of the flexDock provides audio output for connecting to your car stereo via a standard audio cable or a cassette adapter; dual output levels provide compatibility with most car stereos.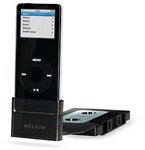 If you've got a first-generation iPod nano and a car with a cassette deck, you'll want Belkin's TuneDeck for iPod nano . This unique accessory combines a cassette adapter with a car mount: you insert the TuneDeck into your stereo's cassette slot, and a sturdy nano-docking cradle protrudes from the stereo, keeping your car free from cable clutter and placing your nano in a safe and convenient location. And because the TuneDeck grabs the higher-quality dock-connector audio signal, rather than the headphone-jack output used by most cassette adapters, it sounds great. (If your iPod's battery is getting low, you can use the included car charger to supply juice, although you lose the cable-free simplicity.) The TuneDeck is a truly unique product that shows the folks at Belkin have been thinking outside the box when it comes to iPod accessories. (Versions of the TuneDeck compatible with second-generation nanos and cassette decks that load cassettes lengthwise are currently in the works.)—DF