Gear Guide: Family stuff and security gear
Part four of the Gear Guide focuses on gifts for the entire family—parents, kids, teens, and more. Then we turn our attention to four gadgets that will keep your Mac-related merchandise more secure.
Gear for Parents and Kids
Whether you're a newly minted parent or an old hand at this child-rearing thing, we've got products that will captivate your toddlers, your teenagers, or you.
Gear for less than $30: Mostly IP Creeper and Toddler Tee
Creative Park
Gear for $31 to $60: Zoundz
iCrib Sound System
Gear for $151 to $300: Lego Mindstorms NXT Kit
Skwarim
Jeep Overland Limited Jogging Stroller
If your teenagers enjoyed hours of Lego fun when they were little, you can bet the Lego Mindstorms NXT Kit will put smiles on their faces now. The kit includes loads of blocks; touch, sound, ultrasonic, and light sensors; three motors; and the programmable NXT brick (which is OS X-compatible out of the box). Online guides outline how to build and program a robotic arm, a six-legged scorpion with pincers, and even a walking, talking humanoid robot. Whether your kids end up creating light-sensing alarm robots to protect their rooms, or pinching robots to annoy their siblings, this is the rare bit of gear that's both incredibly fun and educational.—SSM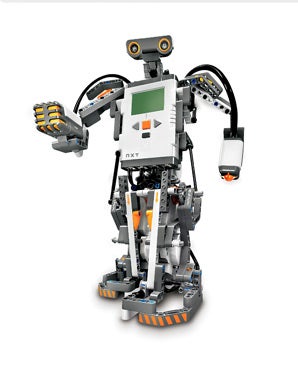 Lego Mindstorms NXT Kit: $250; The Lego Group
ThinkGeek's Mostly IP Creeper and Toddler Tee masterfully combines three highly advanced forms of humor—potty humor, tech humor, and baby humor—and is sure to make geeky parents chuckle (wearily). The shirt fits adorable little packets from size 6 months to size 4T.—SCHOLLE SAWYER MCFARLAND
Mostly IP Creeper and Toddler Tee: $13; ThinkGeek
It's a bouncing baby hard drive
From LaCie, the company whose name is easy to mispronounce ("lah-see," not "lay-see"), comes a new tongue twister: the Skwarim (pronounced "square-im") portable hard drive. Its name is partly derived from the name of its designer, Karim Rashid, and partly from its notably square shape. In any case, you won't need a degree in design or linguistics to figure out what this drive is shooting for: everyone's undivided attention. Available in pink (30GB) or blue (60GB), this USB 2.0-compatible drive makes a great gift for new parents who need to tote around a few thousand pictures and videos of their new tyke, and who will enjoy having a storage device in a traditional new-baby color.—ERIC SUESZ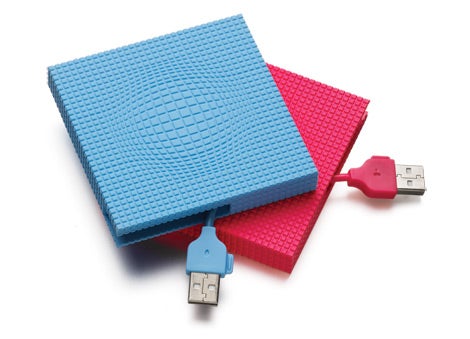 Skwarim: 30GB, $150; 60GB, $200; LaCie
Making music out of shapes? That's exactly what Zizzle's Zoundz lets you do with its seven "sculptures" and milky-white, curvaceous base unit. Six of the sculptures represent a type of sound: percussion, strings, bass, keyboards, cosmic, and soothing; the seventh is used to record mixes. Place a sculpture on one of the base unit's three Hot Spots to activate one of three samples—you get a total of nine possible samples per sculpture—and a colorful light show. By combining samples from each Hot Spot and adjusting effects, you can create your own mixes and even record them. You can also plug your iPod or another music source into the base unit to take advantage of the device's speaker. A built-in alarm clock is difficult to use, but the other features are surprisingly fun.—DAN FRAKES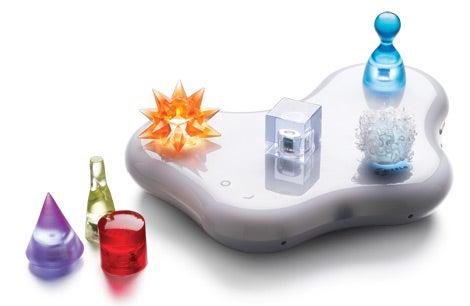 Zoundz: $50; Zizzle
Zoundz: $50; Zizzle
Need a way to distract youngsters trapped inside by the weather? If you've got an ink-jet printer, press it into service with Canon's Creative Park. This craft site isn't just limited to the standard downloadable greeting-card templates and origami. Kids who love to cut, fold, and glue can assemble a fleet of paper airplanes or an entire 3-D paper town—complete with a superexpress train, a police station, and more. In addition to offering hundreds of projects, from the simple to the very complex (a 3-D Taj Mahal, for instance), the site contains an impressive variety of scrapbook resources, clip art, and photography. Buy a few packs of matte photo paper and print out some samples to get the kids started, and you'll give yourself the best gift of all—hours of peace and quiet.—SSM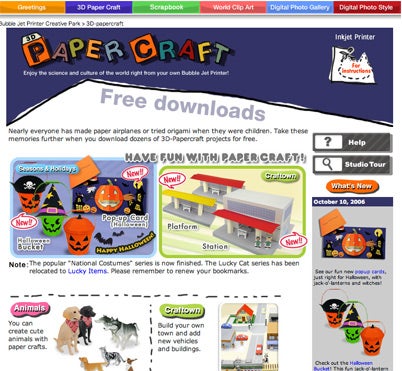 Creative Park: free; Canon
If music can soothe the savage breast, it should also be able to quiet a squalling infant—and if that alone doesn't work, a light show might help matters. The Munchkin iCrib Sound System is a simple, inexpensive speaker setup that attaches to a crib rail and includes a nightlight that slowly cycles through a soothing rainbow of colors. Plug an iPod into the holder (safely away from the baby), and then set the turn-off timer for 15, 30, or 60 minutes. (The iCrib doesn't turn off the iPod itself; use the player's Sleep Timer feature, under Clock options, for that.) Parents can get a lullaby playlist off to a good start by downloading two free albums' worth of Mozart tunes from the Munchkin Web site.—SSM
iCrib Sound System: $30; Munchkin
Help new parents serenade their spawn with Kolcraft's Jeep Overland Limited Jogging Stroller with Music on the Move. Plug an iPod into this good-looking stroller's speaker-equipped tray, and parent and baby can both listen to tunes on-the-go. Granted, the tinny speakers (pointed right at the baby) won't do Linkin Park justice, but they're just right for low-volume Raffi. Like most jogging strollers, this one's front wheel doesn't turn, so it's not very maneuverable. But it's solid and steady on the road. It even comes with a nifty odometer, so parents can keep track of how many miles they've logged to "Wheels on the Bus" while trying to put that inconsolable newborn to sleep.—SSM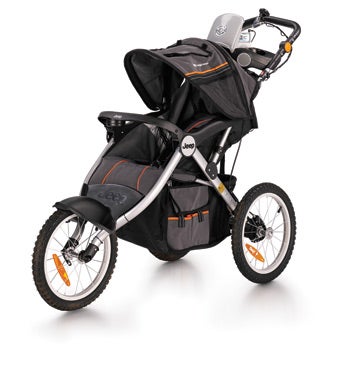 Jeep Overland Limited Jogging Stroller: $170; Kolcraft
Gear for the Paranoid
You see trouble lurking around every corner and ne'er-do-wells eyeing your gear with lustful glee. We can't do anything to improve your dim view of humanity, but we can point out a few things that will lessen your anxiety.
Gear for $31 to $60: Computrace LoJack for Laptops
The Pod Safe
Gear for $61 to $150: SecurePack
Gear for $151 to $300: HMEZ2000 Easy Start Kit
Even if you rarely take your MacBook or PowerBook beyond your local Wi-Fi café, you might enjoy the extra peace of mind provided by Absolute Software's subscription-based Computrace LoJack for Laptops. After you install the application on your laptop and register the machine's serial number at Absolute's Web site, the LoJack software silently and invisibly connects to the company's office at a different time every day, so that its IP address is tracked and logged. If your laptop is swiped, Absolute begins checking the IP address more frequently to get helpful, if not entirely rock-solid, clues that enable the company to work with police to track down your missing Mac. (You need to file a police report before you contact Absolute.) LoJack doesn't lock down your hard disk or data—that's still up to you—but the company says it'll find your stolen computer in 30 days, guaranteed.—JEFF MERRON
Computrace LoJack for Laptops: one-year subscription, $50; Absolute Software
Backend security
Electronic devices are getting smaller and smaller—that's the good news. The bad news is that compact products are easier to swipe, even right out of a backpack. The SecurePack, by Mobile Edge, ratchets up the difficulty level for would-be brigands. Instead of exposed pockets and pouches that a nimble-fingered thief can rifle through, this backpack's zippers rest against your back; they're accessible only when you take the SecurePack off, so potential pickpockets are out of luck. There's even a secure MP3-player pocket with a pass-through for your headphone cable. Protecting your laptop shouldn't put your back up against the wall—not when the SecurePack can put your laptop up against your back.—DAN MOREN
SecurePack: $80; Mobile Edge
Keeping tabs on a home or an office is no longer the province of someone with an unlimited budget, a phalanx of security guards, and the electrical know-how to wire up motion sensors, cameras, and other electronic doodads. Motorola has removed much of that hassle and expense, with its homesight product line. This security system uses a wireless gateway device and a broadband Internet connection to send out alerts, by e-mail or by cell-phone text message, any time a window or door opens or closes—the $300 HMEZ2000 Easy Start Kit includes the gateway, a wireless camera, wireless door and window sensors, and software. Additional accessories ($40 to $150) monitor temperature levels and water leaks, and control appliances and lights. Peace of mind is never more than an e-mail away. (While the system requirements currently say that the HMEZ2000 is a Windows-only product, representatives of the company have assured us that a platform-independent version is forthcoming.)—PETER COHEN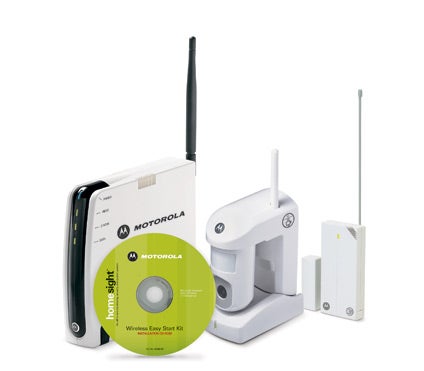 HMEZ2000 Easy Start Kit: $300; Motorola
Few gadgets inspire covetousness quite like the iPod. So if your music player is spending a lot of alone time in a backpack, on a desk, in a locker, or anywhere it might tempt an unscrupulous iPod admirer, consider The Pod Safe. This gadget, available for fifth-generation iPods and original iPod nanos, is a polycarbonate-strengthened, ABS plastic case with a steel security cable and a four-digit combination lock. Attach it to something sturdy, and your iPod isn't going anywhere without a fight. The Pod Safe isn't an impregnable security option, but it should pose enough of an obstacle to convince most thieves to take their scheming elsewhere.—DF
The Pod Safe: $40; Secure-IT

Amazon Shop buttons are programmatically attached to all reviews, regardless of products' final review scores. Our parent company, IDG, receives advertisement revenue for shopping activity generated by the links. Because the buttons are attached programmatically, they should not be interpreted as editorial endorsements.