Gear Guide: Family stuff and security gear
Gear for the Paranoid
You see trouble lurking around every corner and ne'er-do-wells eyeing your gear with lustful glee. We can't do anything to improve your dim view of humanity, but we can point out a few things that will lessen your anxiety.
Gear for $31 to $60: Computrace LoJack for Laptops
The Pod Safe
Gear for $61 to $150: SecurePack
Gear for $151 to $300: HMEZ2000 Easy Start Kit
Even if you rarely take your MacBook or PowerBook beyond your local Wi-Fi café, you might enjoy the extra peace of mind provided by Absolute Software's subscription-based Computrace LoJack for Laptops. After you install the application on your laptop and register the machine's serial number at Absolute's Web site, the LoJack software silently and invisibly connects to the company's office at a different time every day, so that its IP address is tracked and logged. If your laptop is swiped, Absolute begins checking the IP address more frequently to get helpful, if not entirely rock-solid, clues that enable the company to work with police to track down your missing Mac. (You need to file a police report before you contact Absolute.) LoJack doesn't lock down your hard disk or data—that's still up to you—but the company says it'll find your stolen computer in 30 days, guaranteed.—JEFF MERRON
Computrace LoJack for Laptops: one-year subscription, $50; Absolute Software
Backend security
Electronic devices are getting smaller and smaller—that's the good news. The bad news is that compact products are easier to swipe, even right out of a backpack. The SecurePack, by Mobile Edge, ratchets up the difficulty level for would-be brigands. Instead of exposed pockets and pouches that a nimble-fingered thief can rifle through, this backpack's zippers rest against your back; they're accessible only when you take the SecurePack off, so potential pickpockets are out of luck. There's even a secure MP3-player pocket with a pass-through for your headphone cable. Protecting your laptop shouldn't put your back up against the wall—not when the SecurePack can put your laptop up against your back.—DAN MOREN
SecurePack: $80; Mobile Edge
Keeping tabs on a home or an office is no longer the province of someone with an unlimited budget, a phalanx of security guards, and the electrical know-how to wire up motion sensors, cameras, and other electronic doodads. Motorola has removed much of that hassle and expense, with its homesight product line. This security system uses a wireless gateway device and a broadband Internet connection to send out alerts, by e-mail or by cell-phone text message, any time a window or door opens or closes—the $300 HMEZ2000 Easy Start Kit includes the gateway, a wireless camera, wireless door and window sensors, and software. Additional accessories ($40 to $150) monitor temperature levels and water leaks, and control appliances and lights. Peace of mind is never more than an e-mail away. (While the system requirements currently say that the HMEZ2000 is a Windows-only product, representatives of the company have assured us that a platform-independent version is forthcoming.)—PETER COHEN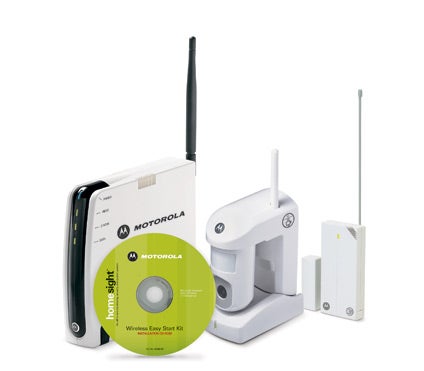 HMEZ2000 Easy Start Kit: $300; Motorola
Few gadgets inspire covetousness quite like the iPod. So if your music player is spending a lot of alone time in a backpack, on a desk, in a locker, or anywhere it might tempt an unscrupulous iPod admirer, consider The Pod Safe. This gadget, available for fifth-generation iPods and original iPod nanos, is a polycarbonate-strengthened, ABS plastic case with a steel security cable and a four-digit combination lock. Attach it to something sturdy, and your iPod isn't going anywhere without a fight. The Pod Safe isn't an impregnable security option, but it should pose enough of an obstacle to convince most thieves to take their scheming elsewhere.—DF
The Pod Safe: $40; Secure-IT

Amazon Shop buttons are programmatically attached to all reviews, regardless of products' final review scores. Our parent company, IDG, receives advertisement revenue for shopping activity generated by the links. Because the buttons are attached programmatically, they should not be interpreted as editorial endorsements.