Expo: Standout iPod accessories
During last week's Macworld Expo in San Francisco, I heard more than a few complaints along the lines of, "They should change the name from Mac world to iPod world!" And, to some extent, such comments were understandable; after all, there were nearly 100 vendors with iPod- or audio-related products.
Unfortunately—or fortunately, depending on what you were shopping for—most of those vendors were there to hawk cases. Don't get me wrong—there were some great cases debuting at the Expo. It's just that cool gadgets are a lot more fun. Thankfully, I saw enough of the latter to satisfy my gadget lust. Here are some of my favorites.
• Belkin TuneStudio : All 5th-generation and nano iPods can record high-quality (16-bit, 44kHz) audio given the proper dock-connector add-on. Unfortunately, until recently those accessories were limited to small microphones with limited functionality—great for recording interviews and voice memos, but incapable of taking advantage of the iPod's abilities. Belkin's upcoming TuneStudio, available this summer, changes that by offering a four-track mixing station, complete with powered-XLR, 1/4-inch, and RCA inputs, along with EQ, level, and pan controls for each channel. Dock your iPod in the TuneStudio's cradle, and your performance is recorded directly to your iPod in all its CD-quality glory. The next time you sync your iPod with your computer, your new recordings are copied to iTunes; you can then open them in your favorite audio editor. (estimated price of $199 to $249)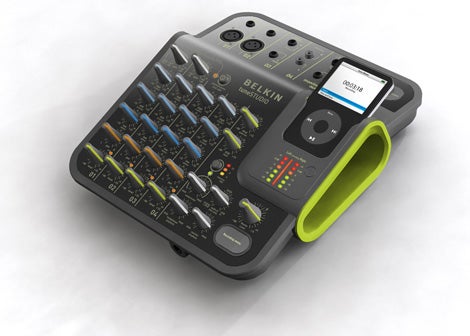 • Alpine iDA-X001 : Back in September 2004, we reviewed Alpine's KCA-420i iPod Interface, which added iPod-connection and -navigation features to Alpine's then-current Ai-NET car-stereo head units. The system offered great sound quality and some nice features, but because the compatible head units weren't designed to work with iPods, the interface was at times frustrating and the system's navigation abilities were lacking. The iDA-X001 head unit, on the other hand, was created specifically for the iPod—it doesn't even include a CD player—and this from-the-ground-up approach shows, especially when compared to Alpine's earlier efforts. Once your iPod is plugged in, you can navigate its contents on the head unit's large (2.2-inch), full-color TFT screen, browsing by playlist, artist, composer, album, song, or genre—podcasts and audiobooks even get their own menus. Album art appears during playback, just as it does on your iPod. Add Bluetooth functionality and add-on modules for HD and satellite radio, and this looks to be a full-featured system. No, you can't watch iPod-hosted videos on the iDA-X001's screen; and that's probably a good thing. ($450)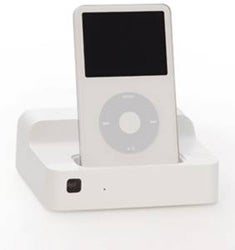 • Silex wiDock : As the iPod's multimedia capabilities increase—the latest fifth-generation models can handle audio, video, and photos, as well as send audio and video to stereos and TVs—more and more people are keeping their iPods near their home entertainment systems rather than their computers. The only problem is that you still need to bring your iPod to your computer to sync it with iTunes. Not anymore: like many multimedia docks, Silex's wiDock connects to your stereo and TV for playing music and displaying video in addition to charging your iPod; however, unlike any other dock, the wiDock also connects to your 802.11b/g wireless network and lets you sync with iTunes over that network—you never have to physically connect it with your computer again. (The wiDock also has a 10/100 Ethernet port if you've got a wired network.) If you've got multiple iPods and multiple Macs, the included setup software lets you assign which iPod syncs with which Mac. The wiDock is available now. ($149)
• Chestnut Hill Sound George : Don't let its pedestrian name fool you, George is one high-tech dude. Although it looks similar to a number of other "tabletop" iPod speaker systems, George offers a number of unique features. The most impressive of those is the pull-away control panel, which turns into a wireless, handheld remote control that replicates your iPod's menus, letting you browse your music from across the room. George's radio takes a clever "bandless" approach which means that you can seamlessly tune to any AM or FM channel without having to switch between the AM and FM bands. George is also a full-featured alarm clock; if you prefer, you can even keep the front control panel—with its backlight LCD display—on your night stand, in its own charging cradle, while the main George unit is across the room (or even in the next room). George is also expandable via plug-in modules and software update; the first of these modules, which adds support for HD radio, is in the works. Finally, you can dress George up via optional wood panels and matching speaker grills. You can bring George home to meet the family later this month. ($549)
•Lenntek hookup Bluetooth Lanyard : We generally liked Apple's $39 iPod nano Lanyard Headphones, which let you wear your iPod nano around your neck without having separate earbud cables dangling around. Lenntek has taken Apple's lanyard idea one step further by adding Bluetooth to the lanyard for pairing it with Bluetooth-equipped mobile phones. When listening to your nano, the Lenntek lanyard works just like Apple's own; however, when your phone rings, pressing a button on the lanyard pauses your iPod and transfers your phone call to the lanyard's earbuds (a microphone on the lanyard picks up your voice). When you're done talking, another press of the button hangs up the phone and resumes playback. The Bluetooth Lanyard be available in the next few months. ($69)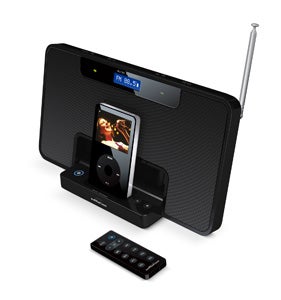 • Altec Lansing inMotion iM600 : Sure, there are many, many (many) $150 portable iPod speaker systems out there. But they're usually compromises: good sound but few features, or feature-rich with less-than-great sound. Until now, only Logitech's mm50 has offered very good sound with lots of useful features. The iM600 looks like a good candidate to join the mm50 as a standout entry in the portable-iPod-speaker market. Slightly larger than the company's popular inMotion iM3—the original portable iPod speaker—the iM600 offers better sound quality, a digital FM radio with external antenna, an alarm clock, an internal rechargeable battery, a remote control, video output, a USB port (for syncing with iTunes), "Stereo Field Expander" feature, and auxiliary-in and subwoofer-out jacks. It should be available in February or March. ($150)
• Creative TravelDock 900 : Got a second-generation iPod shuffle and need a portable speaker system? Although we haven't yet seen any specifically designed for Apple's smallest-ever player, TravelDock 900 is such a good fit, Creative can be forgiven for marketing it as such on the show floor. The compact, 12-ounce TravelDock unfolds to expose two micro-driver speakers, powered by 4 AAA batteries for up to 32 hours. A pop-up stereo minijack plugs into your shuffle's headphone jack; you control volume via a combination of your shuffle's controls and the volume buttons on the TravelDock 900. (There's also an aux-in jack on the back for connecting other audio sources via a stereo minijack cable.) And at an estimated street price around $50, it's reasonably priced, to boot. The only downside is that your shuffle is upside down while sitting in the TravelDock. (In the image below, imagine an iPod shuffle in the place of the Creative player.) ($80)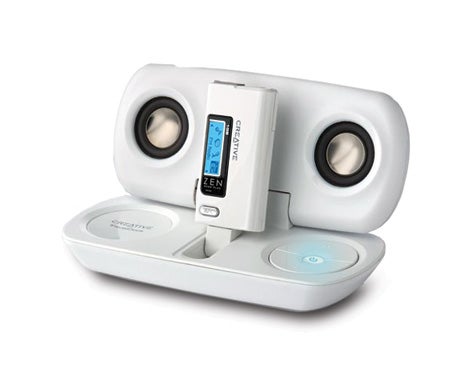 • Griffin Technology Evolve : Although it was difficult to judge sound quality over the din of the Expo show floor, Griffin's Evolve certainly impressed us with its technology. Each of the two speakers—left and right—contains wireless circuitry and a 10-hour rechargeable battery. Pick a speaker off the base and you can take it up to a claimed 150 feet away from the main unit; that's 300 feet of stereo separation! You can even place the speakers in a different room, although walls will reduce wireless range. When the batteries in the speakers start to get low, you just place them back on the base and they'll automatically recharge. (The speakers include an automatic sleep feature so they don't waste battery power when they're away from the base but there's no music playing.) And you aren't limited to two speakers: Griffin will also sell additional speakers; place one on the base and it will automatically pair not only with that base, but also with whichever channel—left or right—that corresponds to the side you place it on. You can have as many speakers as you want, all playing music off a single iPod. The system also includes a radio-frequency (RF) remote. The Evolve will be available this summer. ($349)
• XtremeMac Luna : We reviewed the Luna just before the Expo, so I'll let our review do the talking. But to put it briefly, this is the most feature-rich and attractive iPod alarm clock we've yet seen. The Luna is available now. ($150)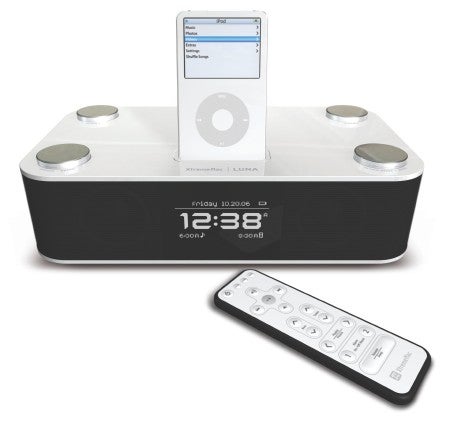 • Harman Kardon Drive+Play II : A year ago, we reviewed the original Drive+Play, and found it to be a truly unique car/iPod integration system. The Drive+Play II addresses several common complaints with the original by adding a crisp, full-color display; a wireless controller; easier access to music (including a new search feature); voice prompts for no-look menu navigation; Bluetooth functionality for taking calls through the Drive+Play and your car stereo; and an optional adapter for Sirius Radio. The Drive+Play II will be available this spring. ($400)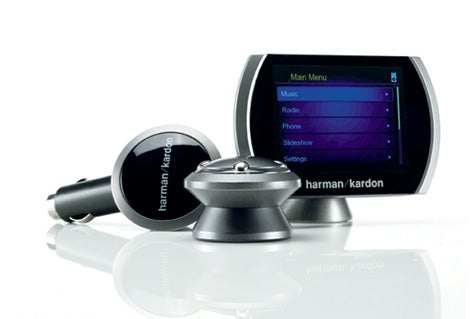 • DLO HomeDock Deluxe : We've talked about the original HomeDock Deluxe a number of times on Playlist . Like most A/V iPod docks, it connects to your home entertainment system, passing audio to your stereo and video (and photos) to your TV; unlike most, it lets you browse your iPod's music via an onscreen (as in, "on your TV screen") display and a wireless remote control. The new HomeDock Deluxe, available in March, adds the ability to browse your iPod's video content on the screen, as well—the only product providing this capability at this time. ($150)
[ Dan Frakes is the senior reviews editor of Playlist . ]