PMA: Photographing your imagination
At least once a year while growing up, my mother would take me to the nearby Olan Mills photo studio to have my portrait taken. The photographer would spend about 20 minutes carefully positioning me into an awkward pose with various props and backgrounds, and then tell me to "smile and hold."
I know my mother treasures the resulting photos (which are still featured prominently around her home), but I wonder how much of that work could have been avoided if MagicPortrait had been around. I saw a demo of the service during last week's PMA digital photography trade show in Las Vegas, and it brought back to mind all those childhood portraits minus all of the posing.
Here's how it works: Simply upload a photo of your child to the MagicPortrait Web site and the company will mask in the digital scenery of your choice. Put your daughter on the back of a unicorn or cradled in a lily blossom.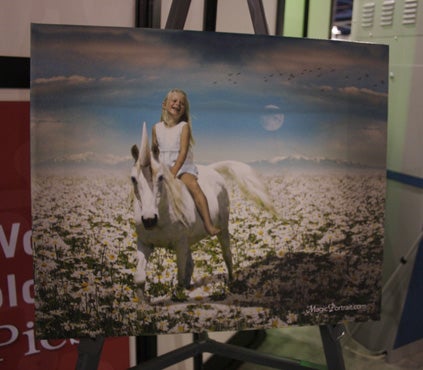 In 48 hours, you'll be able to download the high-resolution composited image, which you can then print out for send to an online photo printer. Each digital image costs $27.