Page 3 of 5
What we found: Repair incidents
A quarter of our respondents' Macs had experienced problems that required service. Laptops had more problems than desktops. And the majority of Macs that had problems were back in service in less than a week.
As satisfied as most Mac users may be, trouble is not unheard of in Mac land. From a sample of 6,924 machines, 26 percent had a problem of some kind that put them out of commission for at least a day. Here's how those numbers break down.
More portables had problems than desktops. Thirty-two percent of the laptops being used as primary machines had problems, compared with 22 percent of desktops.
Macs used at home tend to have slightly more problems. Specifically, 28 percent of home Macs were out of commission at some point, compared with 22 percent of office Macs. That difference could be attributed to the presence of workplace IT departments that can minimize downtime.
The older a Mac is, the likelier it is to have experienced a problem. As you might expect, new Macs (acquired within the last year and a half) were much less likely to have had problems than older Macs. iMac G3s had the highest number of problems among desktops. Among laptops, iBook and PowerBook models clustered around the 40 percent mark.
When they have problems, Macs are usually fixed quickly. Of Macs that had problems, two-thirds were out of commission for a week or less, with one-third out for three days or less. Portables were out for longer than desktops (portables had a median downtime of 6 days, versus 5 for desktops).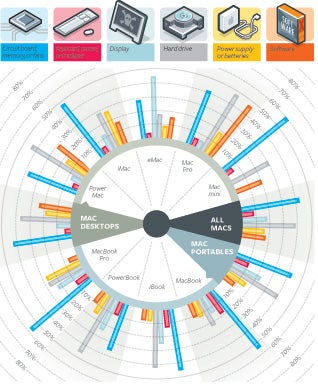 Incident Reports We asked survey participants to tell us what kinds of problems they had experienced with their Macs. Here are the problems, organized by system. Respondents could choose more than one response, so percentage totals do not equal 100 percent. ( Chart by Xplane . Click on chart for larger view. )
Among desktops, all-in-one machines had the longest downtimes. The eMac and the iMac G4 had the most-severe problems, lasting from 10 to 12 days. Despite their low incidence of problems, when 17-inch MacBook Pros did have problems, they were doozies, leading to an out-of-commission average of almost 12 days.
The most-common hardware problems had to do with RAM, the circuit board, fans, or the hard drive. iMacs, Mac minis, and Intel laptops were particularly prone to RAM, circuit-board, and fan problems. Power Macs, PowerBooks, and iBooks were vulnerable to hard-drive failures; so were Mac Pros in terms of percentage, though the sample size was smaller. Among laptops, MacBook Pros had the highest incidence of battery problems (28 percent); in our follow-up interviews, none of the PowerBook owners we spoke to cited the laptop-battery recalls of 2005 and 2006. Meanwhile, MacBooks and MacBook Pros had an unusually high number of problems with circuit boards and/or cooling systems—54 and 56 percent, respectively. About 14 percent of the MacBook owners we surveyed reported keyboard problems; in follow-up interviews, several of them cited the "yellowing wristrest" phenomenon that made headlines in 2006.
Reader tips
Here's some more reader feedback—this time on diagnosing and trouble-shooting hardware problems.
Use the Web (if you can): It pays to be informed before you ask Apple or anyone else for tech support. Head to Apple.com's user forums, as well as other Mac discussion boards, and search for your particular problem. That helped Fred Morris, of Laurel, Maryland, get a handle on his shutdown problem.
I did some research online and found some reports of spontaneous shutdowns in Intel iMacs. Those reports indicated that the shutdowns would become more frequent. Sure enough, they began to happen to me every four or five days. That research also indicated that power supplies were the primary suspects, because of an overheating problem that was difficult to re-create at will.— Fred Morris
Back it up: We know that we say this all the time, but backing up everything on your system can minimize the damage when trouble does strike. With hard drives among the most troubled components of Mac systems, data loss is a real risk, as Mark W. Clark, of Ukiah, California, can tell you. And even if your hard drive is functioning when you send it off for repair, you never know what might happen to it while it's in the shop. While you're at it, before you send any hardware out, be sure to deauthorize iTunes—your iTunes authorization is tied to your hard drive.
I thought my motherboard was failing, but to be sure, I ran Disk Utility. To my surprise, it quickly advised me to back up everything because the hard drive was failing. I started backing things up, but the hard drive died in the middle of that task. This happened last summer, and I am still re-entering stuff that I lost. But now I back up the stuff that matters.— Mark W. Clark