Page 4 of 5
What we found: Quality of service
A majority of Mac users are extremely satisfied with the repair service they've received, regardless of where they go for help. Shipping a Mac out for repairs seems to produce prompter service. And third-party service providers were rated highly for their Mac knowledge.
Apple Stores are the favorite service provider. When problems did flare up, most Macs—34 percent—were taken to the nearest Apple Store for service. After that, the most-popular service options were visiting an Apple-authorized service center (29 percent) and calling AppleCare (25 percent).
The pricier a Mac is, the likelier it is that the purchaser will buy AppleCare protection. About half of these computers were purchased with AppleCare—the three-year extended-warranty package of phone support and repair coverage. Generally, the pricier the system was, the likelier users were to get AppleCare; laptops were likelier to have the extra coverage than desktops.
AppleCare's phone support received relatively low scores for satisfaction and problem resolution, but that's the nature of the beast: there's only so much you can resolve over the phone. In our interviews with users, we repeatedly heard about repair episodes that began with a phone call to AppleCare and ended with a visit to an Apple Store.
Mac service is generally excellent. Regardless of where they went for help, our respondents were pleased with the service they received. Of the more than 1,700 machines that had problems in our survey, 63 percent of them were fixed so well that their owners rated the service they received a 4 (on a scale of 1 to 4, with 4 being highest). Each type of repair service got high marks for resolving the problem and doing so courteously. More than two-thirds of the people we surveyed gave Apple Stores, Apple itself, and third-party service providers a rating of 4 for problem resolution and courtesy.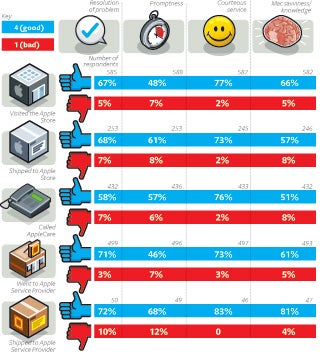 Customer Service Ratings We asked our survey participants to rate their experiences on a scale of 1 to 4 (with 4 being the highest ranking) in four areas: how well the problem was resolved, how quickly it was resolved, the courteousness of the service, and the Mac knowledge of the service provider. ( Chart by Xplane . Click on chart for larger view. )
Bigger differences appeared when we asked Mac users to rate these service providers for promptness. In less than half of the cases where owners took their Macs to service providers in person—whether they were Apple Stores or third-party shops—the providers earned a 4 for promptness; by comparison, more than 60 per-cent of people who shipped their Macs to Apple or another service provider gave those services top marks for speed.
We also saw a wide range of scores when we asked owners to rate service providers for their Mac knowledge. Third-party services that owners had to ship their Macs to got the highest scores for knowledge. Oddly, respondents gave Apple the lowest scores for Mac knowledge.
Reader tips
Our readers also have some advice on getting great customer service when seeking repairs for your hardware.
Find someone who knows Macs: While third-party service providers scored high in our survey, several of the people we interviewed reported problems with shops that didn't really know the Mac. Take it from book designer and photographer Sherry Stinson, of Bartlesville, Oklahoma: Be sure you're dealing with someone who specializes in Mac repairs.
Because my Power Mac was out of warranty, I took it to CompUSA. They diagnosed a dead power supply, which they replaced. But they're very expensive, they're very slow, and they have only one Mac technician, who is never in a hurry to do anything. I've taken my Mac to them four times for repairs beyond my capabilities, and out of those four times, I've had to do further repairs myself twice, to fix the things they didn't.— Sherry Stinson
If at first you don't succeed, ask for someone else: If you go to an Apple Store (or call Apple tech support) and you don't like the answers you're getting, don't be afraid to work your way up the chain to another person. Apple does have a system for escalating really bad problems to staff with greater authority. That's what Mark Dobroth, of Fort Collins, Colorado, discovered when he went to an Apple Store to find out why the optical drive on his iMac G5 had stopped working and why its fans were so loud.
After resetting the firmware and then successfully mounting a DVD, the first Apple Genius told me that he didn't see any problems and gave me the impression that he thought it was a software issue. I asked him to try starting up from a Tiger DVD; he couldn't. I asked him to try starting up with a USB device plugged in; the fans started blasting away at full speed. At that point, one of the other Geniuses sensed my frustration, came over, and recommended that we replace the optical drive and the motherboard. I had to leave it there for a week, but everything was covered by AppleCare. That was last August, and everything has been working fine since then.— Mark Dobroth
[ Dan Miller is the executive editor of Macworld . ]