Page 4 of 6
Publishing your photos
You probably don't want to just look at the photos in your library; you want to be able to print them, create slide shows for clients and friends, build Web pages, and more. You also need the ability to get your edited images out of the program and onto CDs or DVDs, into e-mail messages, and uploaded to online photo services. Aperture has a bit more range and flexibility in this sense than Lightroom, but both programs cover the basics fairly evenly.
Creating Slide Shows Both Lightroom and Aperture let you build slide shows of your work. Lightroom's Slideshow module offers a nice variety of options—you can add backgrounds, display EXIF and custom text, include borders or shadows, and even add music from your iTunes library. Unfortunately, you can export slide shows only as PDF files; it would be nice to have an option for either QuickTime or Flash output.
Although Aperture's slide-show features lack the depth of Lightroom's, they're fine for most purposes. You can choose from a group of presets or create your own and add music; but the only EXIF data Aperture will display are badges indicating the edits you've made. Aperture makes up for some of these limitations by offering tight integration with the latest versions of Apple's iMovie HD and iDVD programs (part of the iLife '06 suite); your Aperture library and projects automatically show up in both programs, so you can take advantage of movie-editing and DVD-creation tools to create stunning slide shows that you can export to multiple formats.
Making Prints Although first-time users will find Lightroom's Print module much prettier and seemingly more expansive than Aperture's Print dialog box, you can accomplish many of the same tasks in either program (see "The Printed Page"). Both let you create customized layouts that you can save and reuse, build contact sheets that place multiple images on a page, print single images at specific sizes, and automatically resize and reorient photos to best fit a particular page size. However, only Lightroom can place an image anywhere on a page—helpful when you're reusing paper or printing an image for matting and framing.

The Printed Page: Lightroom's Print module (left) is extremely flexible. You have extensive control over the placement of your images on the page and which metadata you wish to include. Aperture's Print dialog box (right) lacks Lightroom's style but is nearly as flexible. And only Aperture supports on-screen proofing.
Both programs let you specify color profiles when printing. If you've calibrated your system, it's worth noting that Aperture offers on-screen proofing (available throughout the application), so you can see what your image will look like on different types of media.
One feature in Aperture that really stands out, though, is the Book mode, which lets you design and publish impressive showcases of your work. Although similar to iPhoto's book feature, Aperture's version is much more extensive. With its wide range of book types, pinpoint placement of text and images, and more, it feels like a miniature page-layout program. Many users, myself included, find the Book mode invaluable, and the absence of a similar feature in Lightroom is a definite con.
Building Web Pages Lightroom and Aperture offer many of the same features for building Web galleries from your photos. They each offer nicely designed templates, which you can adjust in a variety of ways, including choosing the image data to present, adjusting image size, adding titles and copyright information, and altering background colors and borders (see "Web Galleries"). However, you can't create your own templates or add your own branding to the canned templates in either program. For that, you'll have to export the photos into your existing Web workflow. Lightroom can create either HTML- or Flash-based galleries, while Aperture is limited to HTML.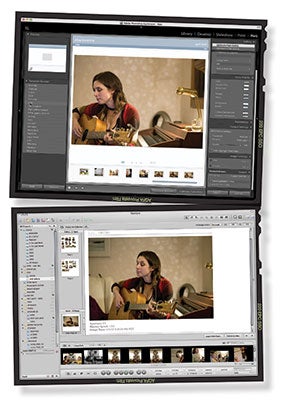 Web Galleries: Lightroom lets you create galleries using either Flash- or HTML-based templates. Aperture doesn't have Flash templates, but it offers two types of HTML templates: Galleries, album-based collections of images, and Journals, which are similar to Weblogs.
Despite their similar features, each program offers a vastly different experience in using those features on a day-to-day basis. Aperture's project-based structure really shines here, especially if you create a lot of Web output. Every Aperture project can have multiple Web galleries (or more blog-like Web journals), each with a unique identity. And returning to a Web project to add new photos or alter settings is quick and easy.
Making updates and managing multiple Web projects in Lightroom is a bit more challenging. While it's easy to create a nice-looking Web gallery from a selection of images, you'll have to go through some gymnastics to add images to that gallery down the line. Whereas Aperture lets you save a Web-specific album as part of a project, with its own settings, Lightroom doesn't save any Web-specific information with its collections or subcollections. As a result, doing something as simple as adding a pair of images to a gallery you created two weeks ago can turn into a trial: you'll have to find the collection of images you used, hope that your Web settings remained the same (and use presets to change them back if they haven't), and rebuild the gallery. In Aperture, it's as easy as dragging the two images into that project's Web gallery. In the end, while I liked Lightroom's Flash templates, I found myself missing almost everything else about Aperture's Web features when I was working in Lightroom.
Exporting Images If you need to get your images out of your library to use with other applications or services, both Aperture and Lightroom can do the job. You can export images in any of the supported formats and at various sizes. You can also save your export settings as presets. Aperture goes a bit further: it has an export plug-in architecture that works with a number of commercial and free services, letting you easily upload your images to stock photo agencies, commercial printing services, and even photo-sharing sites such as Flickr.
Which is right for you?
Aperture and Lightroom are both well-designed applications. Aperture will appeal most to photographers who largely compose in-camera and want an application that will make quick work of culling images. The program offers better options for importing and storing your photos, and its project structure is better tuned than Lightroom's collections- and folder-based approach. While the simplicity and power of Lightroom's Develop module may seem like a big deal, in reality I was able to get the images I wanted from both programs. When you factor in Aperture's excellent Web and Book modes and integration with Apple's iLife suite, it's clear that this is the more mature product. It may take you longer to feel comfortable in Aperture, but once you are, you'll be happy with the breadth of its features.
That said, Lightroom is no slouch. For a version-1.0 program, it offers an impressive collection of features. Despite a few rough edges, Lightroom gives you much of the same functionality as Aperture, and has an excellent image-editing engine with an intuitive and effective set of tools. If you already have a structured workflow, and pixel editing is your primary concern, Lightroom may be the better fit.