Page 3 of 8
Service and activation
Is there anything special about the iPhone's wireless connections?
The iPhone is a quad-band GSM phone, which means it'll work in the U.S. as well as many other parts of the world. (GSM—Global System for Mobile Communications—is the dominant standard in most of the world, but in the U.S. only AT&T and T-Mobile use it.) For wireless data, it can send and receive e-mail and connect to the Internet using AT&T's EDGE network or the phone's built-in 802.11b/g Wi-Fi.
The iPhone also includes Bluetooth 2.0/EDR capabilities. Unfortunately, the iPhone's Bluetooth feature apparently doesn't support A2DP, a Bluetooth profile that lets you send and receive stereo data; this means that you won't be able to use stereo Bluetooth headsets, such as iSkin's Cerulean, to listen to music on the iPhone. You will, however, be able to use standard mono Bluetooth headsets to make calls.
Does that mean I have to use AT&T as my iPhone service provider?
Yes. Both iPhone models will require a two-year contract with AT&T (formerly known as Cingular), the exclusive U.S. carrier. Apple has no plans to release a version of the iPhone without a service contract or one that is unlocked.
Is there a quick way to tell if AT&T coverage is decent in my area?
Check the AT&T Coverage View. If you zoom on the map, you'll get an idea of what call quality you might expect in your area or in places where you travel regularly.
How do I set up my iPhone for service? Will I have to do all that when I buy my phone?
Apple has worked with AT&T to make the activation process relatively simple. All you need is a Mac or Windows PC running the latest version of iTunes. Once you have an iPhone in hand, connect the included dock cradle to a spare USB port on your computer and then place the iPhone in the cradle. That should launch iTunes and you should see an iPhone icon under the Devices heading in iTunes' source list (the same place you'd find an iPod when connected) and a "Welcome to Your New iPhone" page in the main area.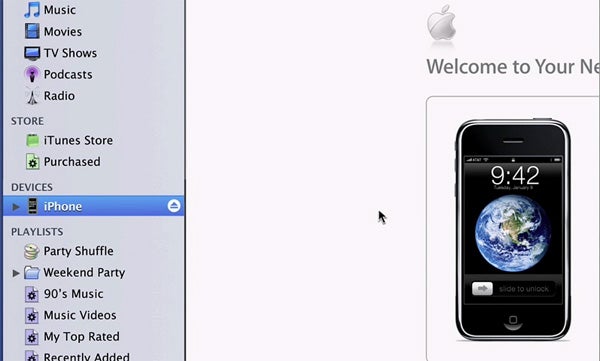 Activating the iPhone in iTunes
To begin the activation process, click on Continue. On the following pages you'll enter more information and ultimately activate your phone.
So what are the rate plans? What do they include?
All plans include unlimited data (e-mail, Web), 200 SMS text messages, Visual Voicemail, unlimited mobile-to-mobile minutes (with other AT&T wireless customers), and rollover minutes (so you don't lose your monthly allotment if you don't use them); the main difference between plans is the number of minutes included. For individuals, plans start at $59.99 per month for 450 minutes and go up to $219.99 per month for 6,000 minutes (the $59.99 plan includes 5,000 nights and weekends minutes; all the other plans include unlimited minutes).
Families can get shared minutes for multiple phones, starting at $80 per month for 700 minutes, although the somewhat confusing small type reads "Price reflects one line. A minimum of two lines are required. Additional iPhone lines are $29.99 each. Family plans for two iPhones start at $109.99"
I'm already an AT&T customer…what about me?
Existing customers can keep their current voice plan and upgrade to unlimited data, 200 SMS messages, and Visual Voicemail for $20 a month (although you will have to agree to a new two-year contract).
200 SMS messages? I'll use that in a week.
No problem—AT&T will give you 1,500 messages a month for an extra $10 per month, or unlimited messaging for an additional $20 per month.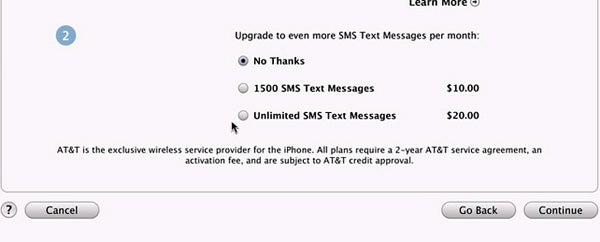 At the bottom of the iTunes screen where you choose your rate plan, Apple offers the option of upgrading your SMS message total.
I notice that the fine print says "Minimum new 2-year wireless service plan and activation fee required to activate iPhone features, including iPod"—what does that last part mean?
It would seem to indicate that you can't just buy an iPhone if you're looking for a cool (but expensive) widescreen iPod. You'll need to activate the phone service on it in order to enjoy the iPod functions as well.
And what's this about a "fee?"
AT&T charges a one-time $36 setup fee for activating your iPhone, just as it does for activating any new phone.
What if I leave the country and go somewhere where there's no AT&T service? Can I bring my iPhone?
Yes. AT&T has roaming agreements with various carriers overseas. Minutes can be quite pricey (so check with AT&T before you travel to get details and see if there's an international-dialing plan you can sign up for) but it works. What you can't do is swap out your AT&T SIM card for a pre-paid SIM card with, for example, a local European phone number. The iPhone is locked to its AT&T SIM card.