Page 4 of 8
Making and Receiving Calls
How do I make a phone call?
There are several ways to make a phone call. To call anyone listed in your contacts, tap on the Phone button and your Address Book will automatically appear. Flick your finger to scroll to the name of the person you want to call, touch the name, and then touch the phone number.
From the Phone program, you can also touch on any number in the Recent Calls, Favorites, and Visual Voicemail screens to initiate a phone call. If you are calling a brand new number, you can use an old-fashioned (virtual) number pad, which is an option on the phone screen.
Can I use my voice to make a hands-free call?
No, the iPhone doesn't support voice dialing, at least not in this version. It might be a feature that Apple could add later via a software update.
What controls are available to me when I'm on the phone?
While you are on a call you have access to six buttons on the iPhone. The Mute button allows you to mute the current call; Keypad brings up the numeric pad for navigating through touch-tone interfaces such as voice mail systems; Speaker turns on the iPhone's integrated speakerphone; Add Call lets you dial someone else and add them to your existing phone call; Hold puts the current call on hold; and Contacts brings up your Address Book.
In-call commands: Mute, Keypad, Speaker, Add Call, Hold, and Contacts
You can also tap on the iPhone's Home button while on a call to bring up the Home screen, giving you access to all of the other applications on the iPhone. If you do that, the bar at the top of the screen will turn green, reminding you that you've got a call on the line. Touch the green area to return to the phone screen.
Can I make a conference call?
Yes. To initiate a conference call, make your first call as normal and then and tap the Add Call button—you can choose a person from your Address Book to call and tap Merge Calls to begin the conference.
What happens when someone calls me?
If you're playing music, the music will fade out and pause. If you're watching a video, the video will pause. Then you'll see a screen that indicates who's calling, and you'll have the option to answer.
What happens when someone calls me when I'm already talking on the phone?
If you're talking to someone already, a pop-up window will appear with the name of your new caller, as well as three buttons: Ignore, Hold Call + Answer, and End Call + Answer. If you answer the call while putting your other call on hold, you can then use the Swap button to toggle between the two callers, or use the Merge button to join the two calls into a single conference call.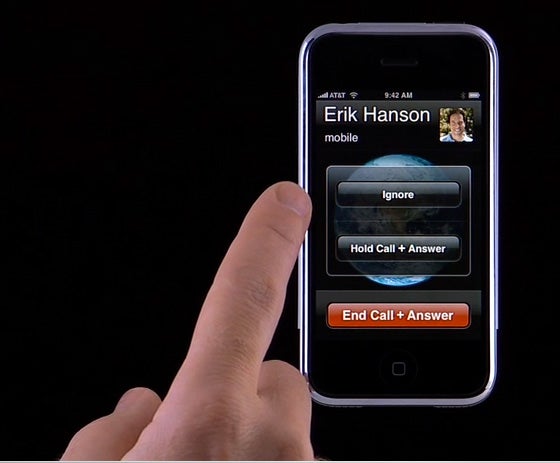 Your options for answering an incoming call when you're already on the line
At the top of the screen you'll see the names of both people you are talking to and their status: a phone icon and a clock counting up call time for the one you're talking to, and HOLD for the one who's on hold.
When I put my face up to the glass to take the call, won't my cheek press all the wrong buttons?
No. When you bring the phone to your ear, a proximity sensor turns off the iPhone's display and the touch sensor to prevent accidental button activations.
What if I get a call while listening to music on my headphones?
If you're using Apple's included headphones, you can click (by squeezing) the inline microphone pod to answer the call. When you're done talking, click again to hang up and your music will resume.
Visual Voicemail
What about ringtones?
The phone ships with 25 different ringtones: Alarm, Ascending, Bark, Bell Tower, Blues, Boing, Crickets, Digital, Doorbell, Duck, Harp, Marimba, Motorcycle, Old Car Horn, Piano Riff, Pinball, Robot, Sci-Fi, Sonar, Strum, Timba, Time Passing, Trill, and Xylophone. You're able to assign ringtones to different callers; however, at this point Apple doesn't allow you to add or delete ringtones from the phone. (There are hacks that allow you to do this from enterprising third-parties.)
How do I check my voicemail?
From the iPhone's Home screen, tap on the Phone icon and then tap on Voicemail. The iPhone takes a modern approach to voice mail: Instead of dialing in to a voice mail system and listening to your queued-up messages one by one, the iPhone's Visual Voicemail feature displays a list of current voice mails, including the name of who sent them and when they were sent. When you tap on any one of them, that message plays. You can also choose to save or delete them, one at a time. The entire effect is not unlike an e-mail client for voice mail.