The 23rd Annual Editors' Choice Awards
Hardware winners
The year saw faster wireless hardware, a more stylish slimmed-down iPod, and the usual parade of prime-time peripherals. There was also a phone you might have heard a superlative or two about.
AirPort Extreme with Gigabit Ethernet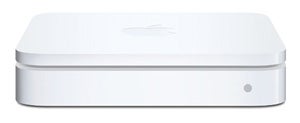 We liked almost everything about the new AirPort Extreme Base Station Apple released in January 2007: It was simpler to configure than the previous model (particularly for sharing printers and hard drives across a network), it had better range, and it was faster, thanks to its support for the speedy new 802.11n wireless networking standard. In fact, our tests found it topped 90 Mbps of actual throughput. Our only major complaint was that it didn't support Gigabit Ethernet, now standard on most Macs. Apple corrected this oversight quickly with the August release of a revamped AirPort Extreme ( ) that added Gigabit Ethernet support. That addition speeded up both wired connections and the base station's internal Ethernet connections, boosting wireless performance. Take a product we already really liked, fix its one major flaw, and you have one of the coolest hardware products of the year.—DAN MILLER
Apple; $179
Drobo
It's hard to hear the words "the world's first storage robot" without snickering at the notion of automatons from an Isaac Asimov story overrunning the Earth one gigabyte at a time. But watch Data Robotics' Drobo ( ) in action, and it quickly becomes clear that this multiple-bay hard drive system is anything but a joke. Simply connect Drobo to your Mac, and it will start backing up all of your data. It's not a standard RAID device, but it performs RAID-like processes in the background, moving data between multiple drives via a complex but very secure backup scheme. If you're a storage aficionado who likes to know the exact details of your backups, this robot is not for you. If, however, you simply want peace of mind about the safety of your information, Drobo is a fantastic storage device. It's dead simple to operate and hides all of its complexity in an attractive, unique, innovative exterior. You can't ask for much more from a robot.—ERIC SUESZ
Data Robotics; $499
Epson MovieMate 72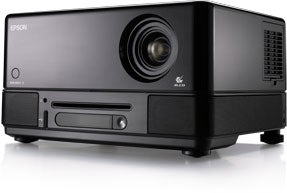 Capable of much more than either a TV or a conference room projector, Epson's MovieMate 72 ( ) is a home theater projector that's the first to offer high-definition 720p resolution. It also includes high-quality integrated speakers, a built-in up-converting DVD player, and inputs for just about anything—your Mac desktop, USB thumb drives, gaming consoles, and TV receivers. An innovative, horizontally split design keeps the base and its inputs and outputs stationary, while the top half with the lens can rotate to project images in just about any direction.—JAMES GALBRAITH
Epson; $1,200
Epson PictureMate Zoom PM 290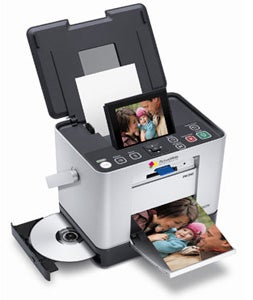 The Epson PictureMate Zoom PM 290's ( ) array of useful, innovative features takes photo printing from your desk to the outside world. A convenient carrying handle makes it easy to move the 6.6-pound printer from point A to point B, and a flip-up LCD screen lets you view and edit photos before printing. As for the prints themselves, the PictureMate Zoom produces high-quality images quickly and inexpensively—at an estimated price per print of 25 cents, making it the least expensive portable photo printer to use. Yes, the Zoom is limited to the same 4-by-6-inch paper size as its predecessors, but those prints look superb. Whether you're going on a road trip or on your way to a wedding, the PictureMate Zoom won't let you down as a travel companion.—BRIAN CHEN
Epson; $200
George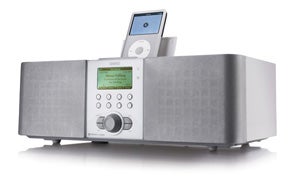 This isn't the first year-end honor we've handed out to the compact George ( ) from Chestnut Hill; the iPod speaker system also won a Play of the Year selection as one of our favorite iPod accessories of 2007. The George earned twice the accolades for good reason, not the least of which is the very good sound quality it offers. But its most unique feature is its detachable control panel. Pop it off, and the panel becomes a wireless, handheld remote that mirrors your iPod's own menus on its LCD display. George also has room to grow—you can update the software via a Mac connection, and maker Chestnut Hill Sound built the device to accommodate future hardware modules.—DAN FRAKES
Chestnut Hill Sound; $499
HP Designjet Z3100 Photo Printer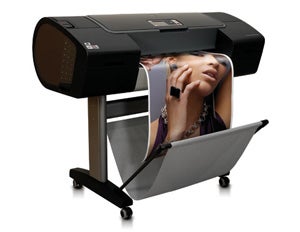 For creative pros and professional photographers, the go-to printer of choice should be HP's Designjet Z3100 Photo Printer ( ), a wide-format device that is a marvel of form and function. The Z3100 can produce color and black-and-white prints as exquisite as anything the competition has to offer, but print quality is no longer the bar that it once was. Thus, HP's engineers had to deliver on usability, and they succeeded brilliantly. From the smartly designed packaging that makes it a snap to set up, to the 12 inks that provide its wide color gamut, the Z3100 has all the bases covered. Its secret weapon, however, is its built-in i1 spectrophotometer (from X-Rite), which lets you create ICC profiles on-the-fly quickly and easily. You put a new paper type into the printer, click a couple of buttons, and a short time later every Mac on your network will have the new paper's settings installed. Someday, printing like this will be commonplace, but right now, HP's Designjet Z3100 stands alone.—RICK LEPAGE
Hewlett-Packard; $4,095
iPhone
From the second Steve Jobs reached into his pocket at the January 2007 Macworld Expo and produced an iPhone, there was little doubt that Apple's long-anticipated entry into the mobile phone market would dominate the headlines for the rest of the year. Less obvious was whether the iPhone ( ) would live up to the hype. But that's exactly what it did upon its June debut. Other handheld devices have incorporated a touch-screen interface—but few can boast of one as elegant and intuitive as what the iPhone has to offer. Many phones claim to provide Internet connectivity—few have pulled off the "no compromises" version of the Internet that the iPhone delivers. Not many multimedia players have been able to challenge Apple's offerings on that front—the iPhone's iPod functions preserve that tradition. And on top of all that, it's a pretty good phone, too.
Are there flaws? Sure—the phone is still missing obvious features even after a few software updates have bolstered its functionality. Early adopters who stood in line that opening day had good reason to feel a little put out when Apple slashed prices quickly and severely to goose sales (though the company softened the sting with a $100 Apple Store credit to purchasers of the full-price iPhones). And, even though Apple will let outsiders develop something other than Web-based apps for the iPhone starting in February, we wish the company would have more quickly embraced the many third-party apps that have sprung up to make the iPhone even more powerful.
But in the grander scheme of themes, these are minor quibbles. Just as the Macintosh changed personal computing in 1984 and the iPod did the same for digital music in 2001, the iPhone heralds a dramatic shift in the future of smart phones. Future devices might challenge and even surpass it, but for the time being, every smart phone that hits the market will be a response to the iPhone. You wouldn't expect any less from a product out of Cupertino.—PHILIP MICHAELS
Apple; $399
iPod nano
Buying an iPod nano used to mean giving up features for a compact size. But the third-generation iPod nano ( ) changed all that by providing essentially the same features as the full-size iPod classic—along with better performance—in a smaller package. While you don't get the cavernous storage capacity or larger screen of the classic, you get everything else—video playback and output, a crystal-clear screen, iPod games, and stereo audio recording—along with superior battery life, skip-free performance, and a lower price. The new nano even looks like the classic's little brother, thanks to its shiny metal backside. You won't want to spend hours watching video on the nano's 2-inch screen, but unless you've got a huge music library that must be with you at all times, this tiny iPod is a big winner.—DAN FRAKES
Apple; 4GB, $149; 8GB, $199
NEC MultiSync LCD2690WUXiSV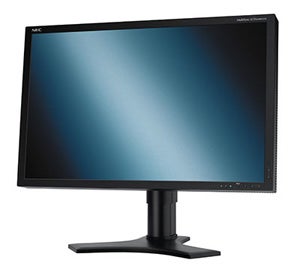 Accurate color is a necessity for professional photographers and designers, and the big, bright MultiSync LCD2690WUXiSV ( ) delivers exactly that across its 26-inch display (the largest in NEC's lineup of professional LCDs). Its bundled spectrophotometer and hardware-calibration features—as well as its built-in tools for managing backlight and color consistency over time—make the MultiSync LCD2690WUXiSV a tool all serious color geeks should consider.—JAMES GALBRAITH
NEC; $1,500
Nikon D40 Digital SLR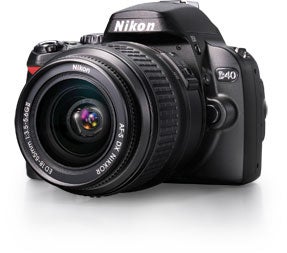 Photo enthusiasts longing for more creative freedom and better lens options than a compact camera can offer are turning to digital SLRs. And it's easy to see why—these cameras offer interchangeable lenses, high-quality optics, and powerful controls. You'll find a number of great digital SLRs on store shelves at the moment, but for my money, the Nikon D40 ( ) is the best value out there. The D40 offers a lightweight, compact body, high-end features, and a useful information display that helps novice photographers become familiar with the camera's settings. Most important, it takes beautiful photos. Although at 6 megapixels it offers a lower resolution and a slightly slower burst mode than its 10-megapixel D40x sibling, the D40 is also significantly less expensive—just $550 with a lens. It's a great match for weekend shooters looking to explore digital photography in greater depth.—KELLY TURNER
Nikon; $550
Panasonic HDC-SD1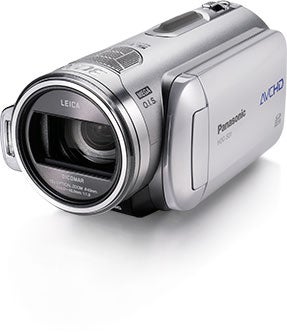 The user-friendly Panasonic HDC-SD1 shoots superb high-definition video with clear sound and accurate colors, but this 3-CCD camcorder is also notable for its ability to record the AVCHD video format on SD/SDHC memory cards. That will save you both money (SD/SDHC memory cards have become extremely affordable compared to MiniDV tapes), time (no more fast-forwarding and rewinding to review footage), and heft, as the cards are feather-light. The HDC-SD1 itself weighs in at less than a pound. We've been using one to create many of our Macworld video podcasts, and even at web resolutions the image quality is remarkably good. No wonder Steve Jobs used this camera to help launch iLife '08: It's a big step forward in the tapeless camcorder revolution.—BRIAN CHEN
Panasonic; $1,299

Amazon Shop buttons are programmatically attached to all reviews, regardless of products' final review scores. Our parent company, IDG, receives advertisement revenue for shopping activity generated by the links. Because the buttons are attached programmatically, they should not be interpreted as editorial endorsements.