Macessity offers new Mac mini stands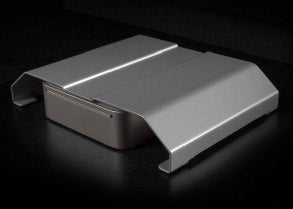 Macessity on Friday introduced two new stands for Apple's Mac mini. The M4-Mini and M-Mini will be available on April 28, 2008 for $59.99 and $44.99 respectively.
Both stands share a common design — they are made of 0.1085-inch thick steel, powder-coated in an aluminum color. The feet are leveled with non-skid rubber pads, as well.
The difference is that the M4-Mini incorporates a four-port self-powered USB 2.0 hub into its side, so you can plug peripherals into the stand instead of the Mac mini. The stands both measure 13.8 x 9 x 2.3 inches.

Amazon Shop buttons are programmatically attached to all reviews, regardless of products' final review scores. Our parent company, IDG, receives advertisement revenue for shopping activity generated by the links. Because the buttons are attached programmatically, they should not be interpreted as editorial endorsements.