Comic Life Magiq debuts
Plasq on Thursday released Comic Life Magiq, a new photo-comic software tool. It costs $44.95.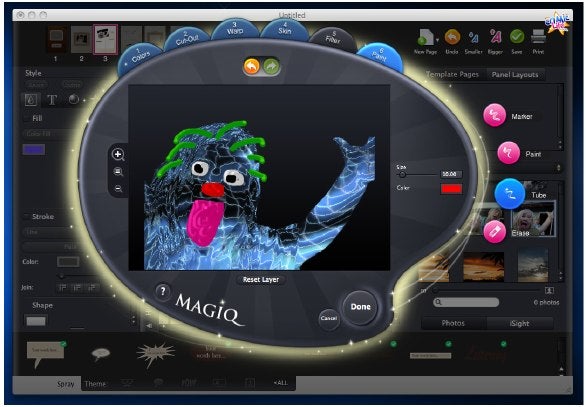 The original Comic Life took your photos and let you put them into panels that looked like comic books, complete with captions, dialog bubbles and other effects. Comic Life Magiq builds on that functionality with pre-built templates, "props," balloons and spraycans to help you tell a story using your own pictures.
The software sports vector-based brushes, bezier path support and compositing options, an image editor that lets you warp, smudge, skin, green-screen and apply other effects, and more.
Comic Life Magiq requires Mac OS X v10.5.2 or later, 1GHz G4 or faster (including Intel), 1G RAM, 500MB hard disk space, 1024 x 768 resolution. A demo is available.
Users of the original Comic Life — including the version bundled on some Macs — can buy Comic Life Magiq at a reduced rate.

Amazon Shop buttons are programmatically attached to all reviews, regardless of products' final review scores. Our parent company, IDG, receives advertisement revenue for shopping activity generated by the links. Because the buttons are attached programmatically, they should not be interpreted as editorial endorsements.