ExpressBox4 hooks up to 4 PCI Express cards
Magma has introduced the ExpressBox4, an external PCI Express expansion box designed to work with Macs and PCs. It costs $2,399.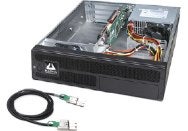 The ExpressBox 4 can accommodate up to four full-length PCI cards, each operating at x8 slot speeds. The standalone enclosure includes its own power supply, and can be rack-mounted in a standard equipment rack, occupying 2U of vertical space.
The slots are equipped to be hot-swappable. Included with the chassis is a PCI Express (PCIe) host controller card that goes into a host computer or server. Each slot can operate any combination of 1x, 4x, 8x or 16x PCI Express cards.
System requirements call for Mac OS X 10.4 or later.

Amazon Shop buttons are programmatically attached to all reviews, regardless of products' final review scores. Our parent company, IDG, receives advertisement revenue for shopping activity generated by the links. Because the buttons are attached programmatically, they should not be interpreted as editorial endorsements.