Italian carriers offer up variety of iPhone plans
Bellissimo! More iPhone carrier news for our international friends. Two carriers have released information about the iPhone plans they'll be offering in Italy starting Friday.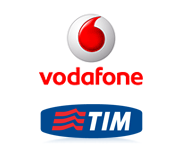 Italy was the first country to announce multiple carriers for the iPhone—in this case, both Telecom Italia and Vodafone. Up until that point, Apple had exclusively operated using, well, exclusive contracts with mobile phone operators. Now, of course, the whole game is changed: there are almost ten countries with multiple carriers, though most of us remain stuck with just a single option. Perhaps one day the rest of us will be able to benefit from the joy of multiple carriers.
That would seem to be to the benefit of Italians. With two separate carriers and eight plans between them (five from Telecom Italia and three from Vodafone, Italian iPhone customers would seem to have unprecedented choice in the iPhone arena. Seems like there may be something for everyone. "Molto bene!" as the Doctor might say.
As per usual, hit up the links above for the details straight from the source, or just keep scrolling down to enjoy our beautifully formatted compact charts—one for each carrier—designed explicitly for your edification. There's a lot of info here, so take your time; don't rush it.
Vodafone iPhone Plans in Italy
| Plan Name | Minutes per month | SMS per month | Data (in MB/month) | Plan price | 8GB iPhone Price | 16GB iPhone Price |
| --- | --- | --- | --- | --- | --- | --- |
| Facile Medium | 400 | 400 | 600 | €59 (~US$93) | €199 (~US$313) | €269 (~US$423) |
| Facile Large | 900 | 900 | 600 | €99 (~US$156) | €49 (~US$77) | €119 (~US$187) |
| Special Edition | 250* | 250* | 600 | €79 (~US$124) | €99 (~US$156) | €169 (~US$266) |
* Calls and SMS messages on Special Edition plan are unlimited to other Vodafone numbers.
Telecom Italia iPhone Plans in Italy
| Plan Name | Minutes per month | SMS per month | Data (in MB/month) | Plan price | 8GB iPhone Price | 16GB iPhone Price |
| --- | --- | --- | --- | --- | --- | --- |
| iPhone Starter | €0.15/minute | €0.15/message | 1000 | €30 (~US$61) | €199 (~US$313) | €269 (~US$423) |
| iPhone 250 | 250 | 100 | 1000 | €50 (~US$79) | €189 (~US$297) | €259 (~US$407) |
| iPhone 600 | 600 | 200 | 1000 | €80 (~US$126) | €149 (~US$234) | €219 (~US$343) |
| iPhone 900 | 900 | 900 | 1000 | €110 (~US$173) | €199 (~US$313) | €169 (~US$265) |
| iPhone Unlimited | 5000 (+100 in Europe) | 1500 | Unlimited | €200 (~US$314) | €0 (~US$0) | €69 (~US$108) |