Six-bay MacBook/iBook battery charger debuts
Oncore Power on Monday announced a six-bay battery charger designed to recharge MacBook and iBook batteries. It costs $395.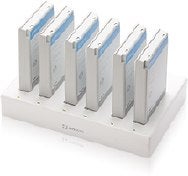 The device is intended for use at educational institutions where MacBooks and iBooks are used. The charger measures 11 inches by 7 inches and it can recharge six empty batteries in less than eight hours. It has a white design and low profile to complement the MacBook and iBook lines.
Oncore also makes the battery charger available in a "value power upgrade kit" that comes with six batteries.

Amazon Shop buttons are programmatically attached to all reviews, regardless of products' final review scores. Our parent company, IDG, receives advertisement revenue for shopping activity generated by the links. Because the buttons are attached programmatically, they should not be interpreted as editorial endorsements.