Eddy Winner: CSSEdit 2.6
CSSEdit ( ) isn't a full-blown Web design program like Dreamweaver. Instead, it focuses solely on helping you create Cascading Style Sheets (CSS). (You use CSS to apply styles to one or more blocks or ranges of text on a Web page, so you can write formatting code once and then use it many times.)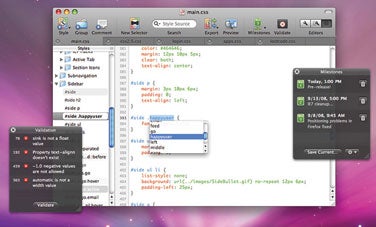 CSSEdit provides an efficient, straightforward workflow: Its Live Preview feature lets you quickly see how changes will affect Web templates. Its X-Ray mode is a godsend when you're troubleshooting CSS; it lets you click on different points on a page to reveal underlying selector information. And if you're performing a complete site redesign, CSSEdit can make the job easier by letting you extract all the style sheets used by a Web page and open them as separately named local files.
CSSEdit may be a specialized tool, but it's one that belongs in any Web designer's tool kit.
Read our full review of CSSEdit 2.6 ($30; MacRabbit).
The 24th Annual Editors' Choice Awards