Eddy Winner: Freeway 5 Pro
When it's time for you or your business to post or update a professional-looking Web site, you can either hire a designer or do it yourself. Freeway 5 Pro ( ) makes the second option possible for more people; it lets you get professional-looking results without any of the hand-coding that Web pros rely on.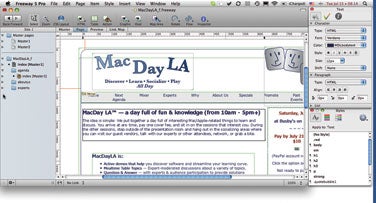 That's because Freeway is an HTML generator, not an HTML editor: You design your site visually, and then Freeway creates the code. You can, if you're so inclined, add your own code, including PHP, CSS, JavaScript, and Server Side Includes; you could even create a pure CSS site.
Freeway Pro's look-and-feel very much mimics that of an Apple app like iLife or Mail, so it's easy to pick up and learn; the page-design interface is not much different from Pages' or InDesign's. Freeway 5 Pro is a great choice for designers who don't want to learn HTML and CSS.
Read our full review of Freeway 5 Pro ($249, upgrade, $99; (Softpress Systems).
The 24th Annual Editors' Choice Awards

Amazon Shop buttons are programmatically attached to all reviews, regardless of products' final review scores. Our parent company, IDG, receives advertisement revenue for shopping activity generated by the links. Because the buttons are attached programmatically, they should not be interpreted as editorial endorsements.