Eddy Winner: AppleJack 1.5
If your MacBook starts misbehaving and you're nowhere near a Genius Bar, your first instinct may be to reach for your OS X Install disc to run some tests. Until you realize you don't have the disc with you.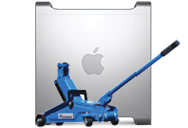 That's when AppleJack ( ) comes in handy. You just start your Mac in single-user mode (by holding down Command-S at startup), and AppleJack's easy-to-use interface lets you perform a slew of troubleshooting tasks—repairing your hard drive, testing RAM, repairing permissions, deleting cache files, and validating preferences files—without requiring a special disc or another startup volume. And because it's available in single-user mode, AppleJack works even when a problem keeps OS X's graphical interface from loading.
Read our full review of AppleJack 1.5 (payment requested; The Apotek).
Go back to our list of Eddy winners
UPDATED 12/3/2008, 12:00pm: Clarified description of graphical interface vs. Mac OS X.
The 24th Annual Editors' Choice Awards

Amazon Shop buttons are programmatically attached to all reviews, regardless of products' final review scores. Our parent company, IDG, receives advertisement revenue for shopping activity generated by the links. Because the buttons are attached programmatically, they should not be interpreted as editorial endorsements.