Eddy Winner: Hulu
Steve Jobs once said that people consume video differently from the way they consume music. While the iTunes Store may have revolutionized the music industry, consumers have shown themselves less willing to plop down money for video content they're used to getting (nominally) for free.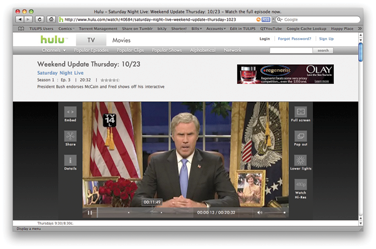 Hulu, a joint venture between Fox and NBC, picks up where conventional television left off, allowing you to view a huge variety of new and classic television shows and films on the Web, for the price of viewing a few brief advertisements. It even offers high-definition 480p video resolution, which—while it may not be Blu-ray quality—is a lot better than the videos on less-legitimate sites.
The service is reliable, easy-to-use, and—most importantly—100 percent legal. In this, the networks have finally taken a page from Steve Jobs's iTunes playbook: you may not be able to crush piracy, but you can certainly compete with it.
Read our look at Hulu (free; Hulu).
The 24th Annual Editors' Choice Awards

Amazon Shop buttons are programmatically attached to all reviews, regardless of products' final review scores. Our parent company, IDG, receives advertisement revenue for shopping activity generated by the links. Because the buttons are attached programmatically, they should not be interpreted as editorial endorsements.