Expo Notes: Merlin project wizardy going mobile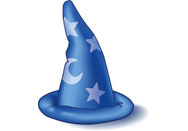 ProjectWizards' Merlin ( ) is an already awesome project management app. In 2008, the company added a Web module that let you not only view projects online, but edit them too.
At this year's Expo, the company debuted an iPhone piece to that puzzle that let you edit projects from your phone—updating completion status, editing other details, viewing attached documents, and so forth. (Imagine a contractor using the software to track a remodel; he could attach photos of the house in various stages of rebuilding.)
My favorite thing about the demo at the ProjectWizards booth: The guy giving it doesn't work for the software maker; he's a customer who simply loves the program. His day job: Managing Windows installations for EMC. For which he uses his Mac and Merlin.
According to the ProjectWizards Web site, Merlin Server and Merlin iPhone will be finalized within the first three months of 2009; a public beta will start in the next few weeks.

Amazon Shop buttons are programmatically attached to all reviews, regardless of products' final review scores. Our parent company, IDG, receives advertisement revenue for shopping activity generated by the links. Because the buttons are attached programmatically, they should not be interpreted as editorial endorsements.