SwitchEasy imitates chocolatiers with ChocoShuffle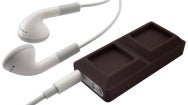 Accessory maker SwitchEasy on Friday announced the ChocoShuffle, a protective case for the third-generation iPod shuffle. The $9 silicone case makes your shuffle look like a chunk of chocolate bar and comes in milk chocolate, white chocolate, or strawberry chocolate "flavors."
When placed inside the ChocoShuffle, only the iPod shuffle's top edge (hosting the headphone jack and mode switch) and back clip are exposed. SwitchEasy claims the ChocoShuffle offers both protection and a better grip.