iPhoto 8.0.4 fixes crashing bug, corrects location names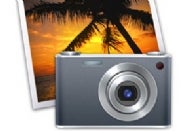 Apple on Tuesday released an update to its iPhoto 8 software, part of the iLife '09 suite of applications. iPhoto 8.0.4 fixes a rare bug in which updating to iPhoto 8.0.3 could cause the application to quit unexpectedly, as well as corrects references to some incorrectly labeled points of interest and location names.
The 103MB download is available via the OS X Software Update feature, or directly from Apple's Web site. It requires OS X 10.5.6 or later, and is recommended for all iPhoto '09 users.

Amazon Shop buttons are programmatically attached to all reviews, regardless of products' final review scores. Our parent company, IDG, receives advertisement revenue for shopping activity generated by the links. Because the buttons are attached programmatically, they should not be interpreted as editorial endorsements.