HeartMath intros Mac version of stress-relief bundle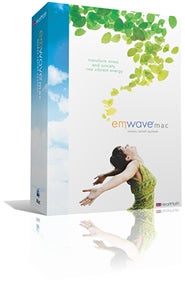 HeartMath on Wednesday announced the emWave Mac Stress Relief System, the first Mac version of the company's hardware/software package designed to help users "prevent, manage and reverse the negative effects of stress, anxiety, fatigue, depression and more."
The company claims the emWave system uses patented heart-rhythm feedback technology to collect data through a USB ear sensor. The software lets you monitor, in real time, how thoughts and emotions affect your heart and nervous system. The data is displayed on your computer as user-friendly graphics.
The emWave system includes interactive stress-reduction tutorials and games to help you change your responses to stress and "create a state of internal balance"; the hardware monitor lets you instantly monitor your progress.
According to the HeartMath Web site, the $299 product will begin shipping July 27.

Amazon Shop buttons are programmatically attached to all reviews, regardless of products' final review scores. Our parent company, IDG, receives advertisement revenue for shopping activity generated by the links. Because the buttons are attached programmatically, they should not be interpreted as editorial endorsements.