Ramp Champ brings boardwalk gaming to the iPhone
The Iconfactory and DS Media Labs on Tuesday announced the release of Ramp Champ, a new $2 game for the iPhone and iPod touch. It's now available from the App Store.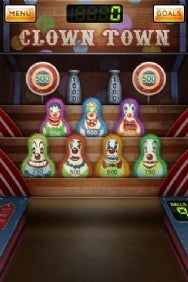 Ramp Champ seeks to replicate the experience of old-time boardwalk arcades filled with games of skill. The game comes with four mini-games, or "levels:" Clown Town, Breakwater Bay, Space Swarm and Icon Garden. As you play and amass points, you'll also amass tickets, which you can redeem for virtual in-game prizes.
Ramp Champ also features the ability to purchase new mini-games as in-game content for $1 each. Add-ons include Ninja Attack, Happy Place, Molar Madness and Tiki Island.
System requirements call for an iPhone or iPod touch running iPhone OS 3.0 or later.

Amazon Shop buttons are programmatically attached to all reviews, regardless of products' final review scores. Our parent company, IDG, receives advertisement revenue for shopping activity generated by the links. Because the buttons are attached programmatically, they should not be interpreted as editorial endorsements.