Taito releases classic Bust-a-Move game for iPhone
Taito's classic puzzle action game Bust-a-Move is now available for the iPhone and iPod touch. It costs $5 and is available for download from the App Store.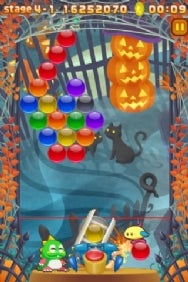 Imitated countless times and spurring numerous sequels and spin-offs, Bust-a-Move features simple action puzzle gameplay: You must link three or more identical bubbles to clear them from the screen. The game features the adorable cartoon character dinosaur Bub, who mans a catapult that launches colored balls in the direction of the play field. Players can use techniques like banking shots off walls and erasing several bubbles at once to win.
Two different control schemes are supported, Tap Shot and the pull-and-release Sling Shot method. A Story Mode chronicles Bub's quest to rescue his friend Chack'n's captured family; it's spread over 180 stages.
Bust-a-Move for iPhone and iPod touch has been augmented with iPhone OS 3.0-specific features such as a Vs. Mode that pits you against other players over Bluetooth.
System requirements call for an iPhone or iPod touch running iPhone OS 3.0 or later.

Amazon Shop buttons are programmatically attached to all reviews, regardless of products' final review scores. Our parent company, IDG, receives advertisement revenue for shopping activity generated by the links. Because the buttons are attached programmatically, they should not be interpreted as editorial endorsements.