Page 3 of 6
Set up your "zones"
While each system requires a bit of initial setup on your computer, the procedures for adding new rooms to your system differ notably. With the AirPort Express-based system, you need to configure each remote AirPort Express unit—using a computer running AirPort Utility—to join your network and act as a remote music device for iTunes. While the software walks you through the steps to set up the device, you have to make a series of decisions that require a certain level of comfort with technology.
To set up a Squeezebox Touch, you plug it in and, using the touchscreen, select either Ethernet or wireless. For wireless, you then select your Wi-Fi network and enter the password. The Squeezebox Server software automatically detects the new Squeezebox and adds it to its menus.
Setting up a remote ZonePlayer is as simple as choosing the Add A Zone command (on your remote or in the Sonos Controller app on your computer) and then pressing a button on the new ZonePlayer; the new zone is automatically added and configured.
Take control
All three systems, Apple, Logitech, and Sonos, provide computer software for controlling playback, choosing which rooms get music, and setting up playlists—iTunes, the Web-based Squeezebox Server, and the Sonos Controller, respectively. But while this software is convenient when you're sitting at your Mac, it's not nearly so when you're in another part of the house and want to enjoy some tunes. So all three companies provide solutions for remote control.
For the Apple system, that solution is Apple's free Remote app for the iPhone or iPod touch. Once you've completed the one-time pairing procedure between the app (on your i-device) and iTunes (on your Mac), launching the app causes it to automatically connect to iTunes—a process that generally takes five to ten seconds. The app gives you an impressive amount of control over playback: You can browse playlists, artists, albums, genres, podcasts, and more; you can search for particular items; you can use the Genius feature; you can even create and edit playlists, all from your iPhone or iPod touch.
For the Logitech system, you'll similarly get the best multi-room control using your iPhone or iPod touch. However, strangely, Logitech doesn't supply an official app to do the trick. Instead, there are two third-party remote apps, the best of which is Penguin Loves Music's $10 iPeng. iPeng looks similar to Apple's Remote app, but with support for the additional features of the Squeezebox.
Logitech also offers a dedicated hardware remote, the $300 Squeezebox Controller, that includes a small, color screen and a faux Click Wheel controller. However, we aren't fans of this remote—you'd be far better off buying a $200 iPod touch and one of the Squeezebox-remote apps. Unfortunately, as mentioned above, the Squeezebox Controller is currently the only way to set up the $150 Receiver.
(Note that the Squeezebox Boom includes an infrared remote, but it's limited to letting you navigate the device's on-screen menus. It's useful for controlling the Boom itself, but not conducive to controlling a multi-room system. Also, the Squeezebox units—except the Receiver—each provide some degree of playback control on the unit itself; if you're listening in only one room, this allows you to control that room's audio without a remote.)
Like Apple, Sonos provides a free app for the iPhone or iPod touch, Sonos Controller for iPhone, which we covered earlier this year. The interface for this app is strikingly similar to that of Apple's Remote app, which is a good thing. Like the Apple version, Sonos' iPhone app gives you complete control over playback, although it also provides access to Internet services supported by the Sonos system but not by the Apple system—Rhapsody, Napster, Sirius, Pandora, and Last.fm—and it lets you browse Internet radio right from the remote.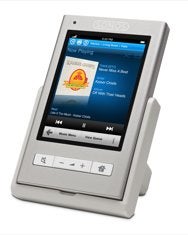 Sonos also offers a dedicated hardware controller, the $349 Sonos Controller 200 (CR200). The CR200's interface is very similar to that of the company's iPhone app, but the CR200 offers better performance, dedicated hardware buttons for frequently used functions, much better battery life (up to 5 days), and a move-to-wake motion sensor. As our colleague Christopher Breen pointed out in his review, the dedicated controller is also less complicated as a "family remote"—you pick it up and it's ready to go; with an iPod touch or iPhone, you've got to wade through your other apps—or perhaps quit an app you're currently using—to launch the Sonos app. Finally, the CR200 comes with a charging cradle.
(On the other hand, one advantage of using an iPod touch-based controller is the bevy of accessories available. For example, as part of a recent renovation, one of us installed in-ceiling speakers in our master bathroom. By sticking an iPod touch inside an OtterBox Armor case, he can control his tunes while relaxing in the whirlpool tub and not worry about the iPod getting wet—or even submerged. Yes, this falls under the category of "first-world problems.")
Whichever system you have, if you choose to go the iPhone-app route for your remote, we recommend dedicating an iPod touch for the purpose. While it may be less expensive to use your current iPhone or iPod touch, unless you're the only person who ever controls audio and you always have that device handy, it's inconvenient to share a single remote between your audio system and the myriad other things your iPhone and iPod touch are used for throughout the day. Not to mention that using your only iPhone or iPod touch as the remote for your audio system means you'll eventually be caught with a dead battery when you desperately need that device for some other use.
Cost if you don't have equipment: Apple: $199 (iPod touch); Logitech $199 (iPod touch) or $300 (Squeezebox Controller); Sonos: $199 (iPod touch) or $349 (CR200).
Wake-up call
There's one more thing related to remote control to consider: waking up your system. The Sonos system's components automatically sleep when not being used in order to conserve energy. However, they continue to watch the Sonos-created network for activity; if a ZonePlayer detects a command meant for it, it automatically wakes up.
An Apple-based system (or a Sonos or Logitech system accessing content stored on a computer) requires a computer, and unless you want to waste electricity by keeping that computer on and awake 24/7, you'll want to configure it to sleep when not in use. The challenge here is how to wake it up from across the house when you want to listen to music. As long as your Mac is connected to your network via Ethernet, or you have a recent Mac that supports Wake on Demand, you can use a technology called Wake on LAN to wake the sleeping computer over the network. The Squeezebox will automatically wake the computer that Squeezebox Server is running on. For the Apple-based system, if you're using an iPhone or iPod touch, the tool I chose is Wake on Oui, an iPhone app that, once set up, lets you tap a button to wake your Mac.
Cost if you don't have equipment: Apple: $1 (Wake on Oui); Squeezebox: $0; Sonos: $0.