Page 4 of 6
Amp it up
Once you've got your system set up to send music to various locations, you need to get that music signal into an audio system that lets you listen to it. If you've already got a stereo in a room, you can simply use that, running the appropriate audio cable from an audio output on the AirPort Express, Squeezebox, or Sonos ZP90/ZP120 to your receiver or amplifier.
If you don't already have an audio system in a room, you've got a few options. For the AirPort Express, Squeezebox, and Sonos ZP90, the simplest and least expensive solution is to connect your player hardware to a set of self-powered computer speakers. Unfortunately, with a few exceptions, the sound quality won't compare to what you can get with a good set of traditional speakers and a good amplifier.
(One of those exceptions is Audioengine's $349 Audioengine 5—aka, A5—a standout powered bookshelf speaker system that provides excellent sound quality in an attractive, compact package. What makes the A5 especially appealing for this use is that the rear of one of the A5's two speakers has an AC outlet specifically designed for an add-on device such as an AirPort Express, Squeezebox, Sonos ZP90—you just plug in your wireless unit, run a short cable from its audio jack to the A5's audio input, and you're good to go.)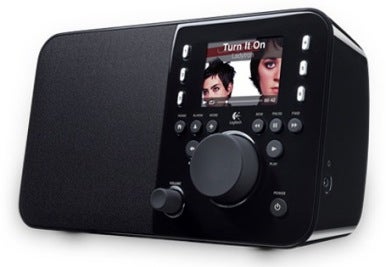 The second option is an all-in-one unit that combines a wireless receiver with an amplifier and speakers. Logitech makes two such Squeezebox models. The $200 Squeezebox Radio is designed for your nightstand; it's got a single mono speaker that offers decent quality and volume, but isn't really capable of cranking the tunes. The $300 Squeezebox Boom has a larger, boom-box shape (though it'll still fit on a nightstand or shelf), with stereo speakers and more power for better audio quality. The Boom also provides a connection for a powered subwoofer to really get the party going. Neither model is going to offer the audio quality of a dedicated set of speakers and an amplifier, but they're affordable, and we liked the sound of the Boom. Both models also come with front-panel displays and controls, so you can operate them without a remote (though the Boom does include a small, infrared remote).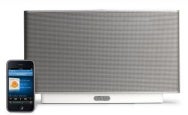 Sonos, on the other hand, is a newcomer to this space. The company just announced the $399 $ZonePlayer S5, which is essentially a ZP90 with an amplifier and five speakers in a desktop enclosure. We suspect the S5 will sound noticeably better than the Logitech systems, albeit at a higher price and with no built-in display and few controls.
Still, there's no doubt that for the best sound quality, you'll want a dedicated amplifier and a good set of speakers. Once you go this route, the choice of speakers is up to you—you can use your favorites with any system. For smaller rooms, we recommend a good set of bookshelf models, such as the $250/pair Paradigm Atom v.5 and $279/pair PSB Alpha B1 speakers we covered in our article on building an iPod stereo system. Another good option we've been testing lately is the Audioengine P4 (AP4; $249/pair), the unpowered—and slightly smaller—sibling of the A5 we mentioned above. Alternatively, you can go all-out with a set of larger speakers, or a sub/sat system, that offer full-range audio.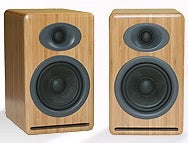 If you go this route, the Sonos ZP120 offers something that the Squeezebox line doesn't: a ZonePlayer with its own amplifier, so all you need to add are a pair of good speakers. If you're a music fan, you may have such a pair already attached to an old stereo. For only $150 more than the ZP90, you get a very good amp that has plenty of juice to fill a good-size room.
For the Apple-based system and the speaker-less Squeezebox units, the choice isn't as simple, as you've got to shop for a quality amplifier among the myriad choices out there. For the fun of it—and to nail down some kind of price estimate—we decided to find a great multi-room-system amp. We narrowed down our search with a couple criteria: We tried to put together a system that competed with the Sonos ZP120 in terms of features and quality, so we wanted an amplifier that was small in size while providing plenty of power, and we wanted an amplifier that was energy efficient. (The Sonos ZonePlayers sleep when not in use to conserve electricity.)
What we settled on was the $349 Parasound Zamp v.3, a compact, 45-Watt-per-channel amplifier specifically designed for systems like these; Dan Frakes tested two Zamps. At only 9.5 inches wide, 10 inches deep, and less than 2 inches high, each Zamp is tiny as traditional amplifiers go, but it's built like a tank—it's largely made of metal, weighs seven pounds, and comes with a two-year warranty—sounds great, and puts out plenty of power, handling the big NHT Classic Four towers in Dan's main stereo rig surprisingly well.
Because it's made for custom audio installations, the Zamp has a number of features that make it perfect for pairing with an AirPort Express or Squeezebox. It automatically goes into a power-saving sleep mode when no audio signal is present, and automatically wakes up as soon as it detects a signal. In other words, the amplifier is on only when you're sending audio to its AirPort Express, Squeezebox, or ZP90. With a traditional amplifier, to send music to the family room, you need to either go to the family room and turn on your audio system—a task that sounds simple, but gets annoying very quickly—or you need to leave it on all the time, wasting electricity. The Zamp also has a convenient rear-mounted set-it-and-forget-it volume dial; once you've matched the volumes in your various rooms, you can use your AirTunes or Squeezebox volume controls.

Thanks to its small size and heat-protection features, the Zamp also, like the ZP120, works well if you've got speakers built into walls or ceilings. The cables for Dan's in-ceiling speakers lead to a "media closet" that also also hosted the Mac mini he was using as the center of the Apple-based system for this article. Two Zamp units sat next to the Mac mini, an AirPort Extreme, two AirPort Express units, and an external hard drive for the mini, and the closet never got noticeably warm. In short, Dan loved the Zamp, and found it to be comparable to, if not better than, the amplifier inside the Sonos ZP120 in terms of audio and build quality.
Cost if you don't have equipment: Apple: cost of amplifier and speakers for each room; Logitech: cost of amp and speakers for each room, or $300 for Squeezebox Boom for smaller rooms or $200 for Squeezebox Radio for the nightstand; Sonos: cost of amp and speakers for each room (with the ZP90), just speakers for each room (ZP120), or $399 for an S5.