MacMiniColo.net looks at the Mac mini server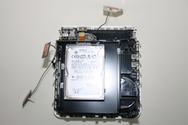 MacMiniColo.net, the folks who run a co-location service for over 500 Mac minis, has posted a hands-on review and setup walkthrough of the new Mac mini configured with Mac OS X Server. Also included is a now-standard unboxing and teardown of said mini, confirming what we already know: the optical drive has been replaced with a second 500GB hard drive, Apple uses screws in its construction practice (say it ain't so!), and the mini has an awful lot of technology crammed into a very itsy bitsy box.
Despite its frequent use in the consumer market as a souped-up AppleTV, the mini is a surprisingly versatile general-purpose server, limited before now only by its single internal drive bay. Until recently, Mac OS X Server itself cost $999 for the unlimited-user version; that same price now gets you both the operating system and a mini to run it. The MacMiniColo team also notes that though the new minis (both server and standard) ship with 4GB of RAM standard, their firmware supports up to a hefty 8GB of memory.
I'm not endorsing MacMiniColo's services (I have no experience with the company), but if you're curious about either the server software or the new, cheap hardware configuration, check out the walkthrough. (And note Apple's upcoming seven city tour of seminars about 10.6 Server, in case you're interested.)