XShot iPhone case helps steady your snapshots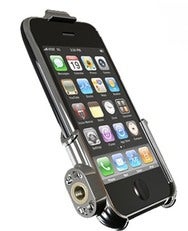 I'm often impressed with the photographic prowess of the iPhone (and cell phones in general). People are taking some amazing images out there armed only with an iPhone (check out The Best Camera for some examples), but we've all been in this situation: a picture of an amazing event is ruined by your shaky hands. Nothing is worse than thinking you snapped a pic of Steve Jobs ordering a small soy latte, only to get back to your Mac and see the image was blurry. (Is that Steve Jobs or Larry Ellison in the picture? UG!)
XShot, the makers of the XShot 2.0 telescopic arm that makes taking self-portraits a breeze, are offering up a potential solution: the XShot iPhone case. XShot claims that this case, which will be available in November for $30, is the first iPhone case with a built-in tripod mount (which works with the XShot 2.0, of course). As long as you have a small travel tripod, your surreptitious photos of powerful CEOs will never be blurry again!
The XShot iPhone case ships in November, but if you pre-order you'll get $10 off the sticker price.
[via DVICE]

Amazon Shop buttons are programmatically attached to all reviews, regardless of products' final review scores. Our parent company, IDG, receives advertisement revenue for shopping activity generated by the links. Because the buttons are attached programmatically, they should not be interpreted as editorial endorsements.