Macessity intros TrayStation convertible laptop stand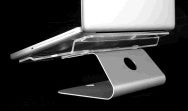 Mac accessory maker Macessity on Monday announced the TrayStation Cooler/Riser, a combination laptop stand and cooling tray.
Like traditional laptop stands, the TrayStation lifts your laptop to a more-ergonomic height (in this case, approximately six inches off the desk) when using the computer with an external keyboard and mouse. However, the TrayStation's clear-acrylic top surface separates from the steel base, allowing you to use the former as a low-profile cooling stand when the laptop is sitting directly on a desk.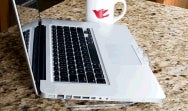 The TrayStation, compatible with all current and previous Apple laptops, is available for order for $55; it will ship by November 2. You can also buy additional acrylic trays for $25 each or two for $45.

Amazon Shop buttons are programmatically attached to all reviews, regardless of products' final review scores. Our parent company, IDG, receives advertisement revenue for shopping activity generated by the links. Because the buttons are attached programmatically, they should not be interpreted as editorial endorsements.