CableJive provides a cable for two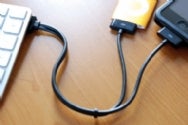 Cable vendor CableJive has introduced the DuaLink, a USB dock-connector cable for iPods and iPhones that lets you charge and sync two devices simultaneously.
While Apple's $19 Dock Connector to USB Cable provides a standard USB plug (for connecting to your computer) at one end and a dock-connector plug (for connecting to your iPod or iPhone) at the other, the 9-inch-long DuaLink ups the ante with two dock connectors. You can connect each to any iPhone or dock-connector iPod, allowing you to charge and sync two devices at a time via a single USB port—or charge both using a single USB power adapter—while reducing the cable clutter on your desk and in your travel bag.
According to CableJive, the $26 DuaLink works its magic by including a two-port USB 2.0 hub inside the cable itself. The DuaLink also uses heavy-duty cable and includes a lifetime warrantee. It is available now from the CableJive Website.

Amazon Shop buttons are programmatically attached to all reviews, regardless of products' final review scores. Our parent company, IDG, receives advertisement revenue for shopping activity generated by the links. Because the buttons are attached programmatically, they should not be interpreted as editorial endorsements.