Apple releases 3.0.2 software update for Apple TV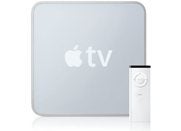 Apple rolled out a minor update to its Apple TV media center Thursday, bringing the device's software up to version 3.0.2.
Although the company had not published any official release notes for the software as we posted this article, the update seems to address changes in image sharing first introduced by the recent release of Aperture 3.
With the new software, Apple also appears to have fixed a few bugs, eliminating issues related with switching HDMI cables and improving the general readability of its user interface.
This is the second update to Apple TV's software since the introduction of Apple TV 3.0 last October. Apple previously issued version 3.0.1 in November 2009 to address issues related to disappearing content.
The 3.0.2 update can be downloaded and installed directly from the Apple TV firmware upgrade menu.
[Note: At the time this story was posted, one Macworld editor who checked his Apple TV got a message that there was no update available.]

Amazon Shop buttons are programmatically attached to all reviews, regardless of products' final review scores. Our parent company, IDG, receives advertisement revenue for shopping activity generated by the links. Because the buttons are attached programmatically, they should not be interpreted as editorial endorsements.