The Raging Dead for iPhone
At a Glance
Generic Company Place Holder The Raging Dead

Macworld Rating
In The Raging Dead, you're given an aerial view of a section of a city and the task of eradicating the zombies before they spread. The challenge of the game is inherit in what makes a zombie plague such a terrifying concept—their victims turn into more zombies. As someone who enjoys zombie-lore immensely, this concept seemed terrific to me. I read World War Z in one sitting and I still get the chills from the movie I Am Legend. I brought all this fascination and enthusiasm with me to play The Raging Dead, a game designed for iPhone and iPod Touch by Ghostbird Software. Unfortunately, while I enjoyed the epic scale of the game, the zombies themselves were disappointing.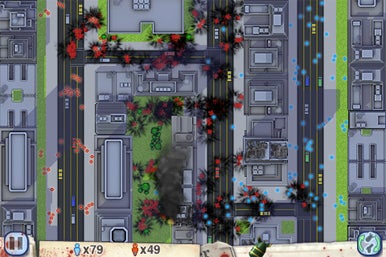 In the Raging Dead, the zombies are depicted as little red dots. The city streets are filled with little blue dots (people) and less than a half dozen red dots (zombies). You have two weapons, bombs and a semi-automatic gun with which to kill the zombies from the sky. If you don't eradicate the first few zombies quickly, they rapidly multiply and become unmanageable. If that happens, all you can do is watch from the sky as the last few blue dots are hunted down by giant mobs of zombies.
If you have a good imagination, The Raging Dead is a remarkably clever way to simulate a zombie apocalypse, but if you don't, then The Raging Dead is a bit abstract. While the zombies are well-detailed, each city map is really well designed and looks very realistic. Different street layouts allow for some strategy in creating safe zones or penning in zombies.
The game's not as easy as you might think. There are little trees that the zombies wander under, making it hard to find them. The buildings and streets explode and smoke when you bomb them, further obscuring the zombies from your view. When zombies are killed, they make little red blood splats which help camouflage the remaining undead. If you can get past the dots, the rest of the design makes the game challenging and cool to look at. It's a shame that if you do well on a level (ie. kill the zombies before they can bite that many people) you don't have much time to enjoy the scenery and layout.
A zoom function might be nice for the game as the weapons (especially the gun) are extremely inaccurate and when you're try to save a city of people from the undead, the last thing you want to worry about is the fact that your targets are 1/40th the size of your thumb.
Despite some disappointments that probably stem from my weird fascination for the undead, The Raging Dead is a fun game that is worth downloading if you are looking for a little higher stress game and have an active imagination.
[Bryan Shell has an active imagination.]
Zombie Week: The undead are coming!
At a Glance
Generic Company Place Holder The Raging Dead

Macworld Rating