Apple releases ProKit 5.1 update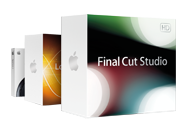 Apple on Tuesday released ProKit 5.1 for Leopard and Snow Leopard, an update for the company's line of professional-level applications. According to the support release, the problems addressed range from a fix for improper scrolling behavior, a change to the "layout of interface elements in certain alert windows," and a resolution for an issue involving "memory leaks."
Hopefully, that last fix means that Aperture 3 users will finally get some relief from the memory-related issues that have been plaguing them since the software's release. Either way, it's nice to actually see a patch acknowledging that those problems actually exist.
It also appears as though Apple may be cracking down on illicit copies of Final Cut Studio with this latest update: there are reports that ProKit 5.1 may disable large numbers of pirated serial numbers.
The update is suggested for users of most of the pro apps, including Final Cut Studio, Final Cut Pro, Motion, Soundtrack Pro, DVD Studio Pro, Aperture, Final Cut Express, Soundtrack, Logic Pro, and Logic Express. It requires 10.5 or later, and is 32.39MB in size.