SuperGlued for iPhone
SuperGlued is a promising utility that lets you track nearby concerts. Tied to the SuperGlued.com Website, the mobile app shares many of the same features for finding a concert, sharing your thoughts with other concert-goers (through Twitter), and searching based on your location.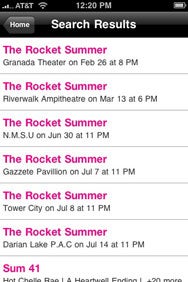 But while it shows promise, this free app did not quite work right. In my tests, the app did not find concerts for an artist I knew was nearby and did not actually list any concerts for another artist I knew was on tour. Worse, when I typed in a zip code for my location—instead of using my current location based on the iPhone's GPS—SuperGlued used a city that is not anywhere nearby. (When I tested other more common zip codes, the app worked correctly, so I chalked up this behavior as a minor bug.) The recent Version 2 update—which adds FourSquare integration, lets you buy concert tickets from within an app, and enables you to view member profiles and designate people as favorites, among other features—didn't resolve the issues I had with the app.
SuperGlued's social networking features are interesting, though. You can comment on a concert through SuperGlued and have the tweet appear in your Twitter account. When you find a concert you will attend, you can click an option to add the concert to a My Shows listing. Still, I'd like to see more custom options—say, for seeing tweets very close to my seat. (The latest version will let you know what shows your friends are at in real time.)
As a free app, SuperGlued is worth the effort to install it if you want to search for concerts, but don't expect too much in terms of extra features or added "location awareness."
[John Brandon is a freelance technology writer based in Minnesota.]