Portable, social document scanner Doxie begins shipping
You probably never thought that your scanner could be "social," able to automatically upload documents to the likes of Flickr, Google Docs, Twitter, Evernote, and more. You probably also bet against ever owning a scanner with pink hearts buttons all over it. But if you're looking for an extremely portable and socially-adept color scanner, I hope you didn't put too much on the line. After making a splash at Macworld Expo 2010, Doxie is now shipping.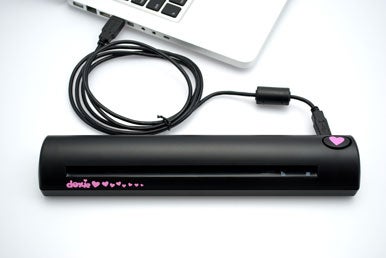 Doxie is a USB scanner that can scan into most of your existing Mac apps, like iPhoto and Adobe Acrobat Reader—but it can also scan straight to a number of Web services for sharing online. It weighs 10.6 ounces and looks to be about as small as a full page scanner can get, so it ships with a leatherette carrying case and even a set of skins for adding some style.
In addition to documents, Doxie can scan color photos at up to 600 dpi (24-bit) and grayscale photos at 200 dpi (8-bit). It requires Mac OS X 10.5 or later and is powered by a USB 2.0 port. Doxie costs $129 and is shipping now.
Product mentioned in this article
(1 items)
Apparent Doxie One $129.00 (Check Prices) via Amazon.com Marketplace

Amazon Shop buttons are programmatically attached to all reviews, regardless of products' final review scores. Our parent company, IDG, receives advertisement revenue for shopping activity generated by the links. Because the buttons are attached programmatically, they should not be interpreted as editorial endorsements.