MacKeeper 0.9.6
Editor's note: The following review is part of Macworld's GemFest 2010 series. Every day from mid July through August, the Macworld staff will use the Mac Gems blog to briefly cover a favorite free or low-cost program. Visit the Mac Gems homepage for a list of past Mac Gems.
If you're fanatical about Mac maintenance MacKeeper offers tools to clean out errant files, backup your data, and even find your Mac if it's lost or stolen. MacKeeper's developer, Zeobit, also provides 24/7 tech support.
MacKeeper's set of features are divided into three distinct areas: Cleaners, Tools, and Services. Cleaners, as the title implies, helps you find and remove unnecessary files, such duplicate files, extraneous languages, and cache files. Tools are used to backup and encrypt data, change Launch Services preferences, shred data, and undelete files. Services are where you'll find MacKeeper's Anti-theft and Geek on Demand features. Each of the features works as expected.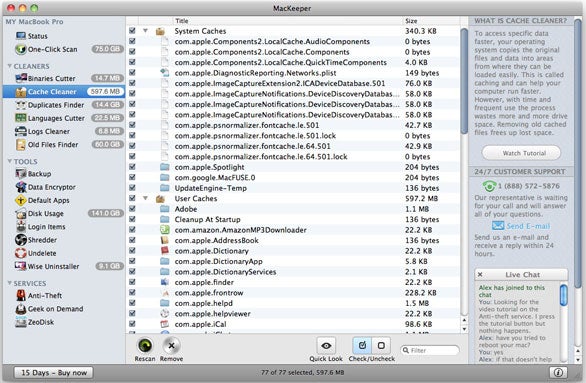 But I did find that the application often lagged when I switched between tools and even after a restart, switching between each of the program's tools often resulted in a 5-second delay before the feature was available.
The program comes with built-in chat-based tech support as well as e-mail and phone support. I was surprised to find how responsive chat support was, even if it was not all that helpful for my specific needs. A chat I initiated on July 5 (a holiday for most people) resulted in a near immediate response. But my query, which was about one of the video tutorials that wasn't playing, resulted in a rather glib, "Have your rebooted your Mac?" And after an affirmative response, "Then please reinstall MacKeeper, the videos are working fine for me."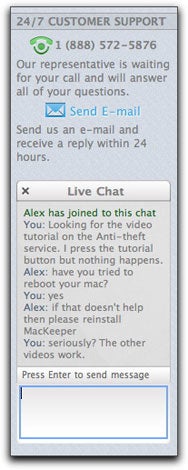 Overall, for anyone who needs to use system maintenance tools and needs tech support on a regular basis, MacKeeper offers a compelling set of tools at a very reasonable price ($40 per year). It also gives you the power to clean your Mac and the peace of mind to locate it if it gets lost or stolen.
Want to stay up-to-date with the latest Gems? Sign up for the Mac Gems newsletter for a weekly e-mail summary of Gems reviews sent directly to your inbox. You can also follow MacGems on Twitter.
Our 186-page Mac Gems Superguide is a veritable greatest hits of Mac Gems. It's available as a PDF download, PDF on CD-ROM, or as a printed book. Learn more about the Mac Gems Superguide.
[Jeffery Battersby is an IT Consultant, Apple Trainer, (very) smalltime actor, and regular contributor to Macworld. He writes about Macs and more at his blog.]