Jimmy Kimmel's MacBook saves the day after power outage
Fans of "Jimmy Kimmel Live" are in for a very special episode Tuesday evening. As detailed in an announcement on the Jimmy Kimmel Live Facebook page, a power outage shut down filming of the show an hour before taping. With guests and a studio audience waiting, Jimmy Kimmel rose to the challenge, recording the entire show using only his MacBook's iSight Webcam.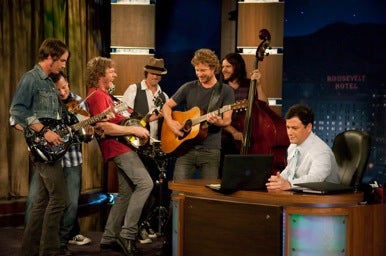 Airing at 12:05AM eastern time (which, technically, would make Wednesday), the episode will feature all-Webcam interviews with guests Seth Rogen, John Henson, and country star Dierks Bentley, who improvised an acoustic performance for the occasion. The Jimmy Kimmel Live Facebook page has posted a handful of photos documenting the unconventional shoot.
The reaction by the show's many Facebook fans has been overwhelmingly positive so far, with more than 95 "likes" on the post, and a number of encouraging comments. Regardless of whether Kimmel pulls off a successful show with his trusty MacBook, Tuesday's episode should make for some interesting viewing indeed.
Product mentioned in this article
(1 items)
Apple MacBook MC516LL/A Notebook

Amazon Shop buttons are programmatically attached to all reviews, regardless of products' final review scores. Our parent company, IDG, receives advertisement revenue for shopping activity generated by the links. Because the buttons are attached programmatically, they should not be interpreted as editorial endorsements.